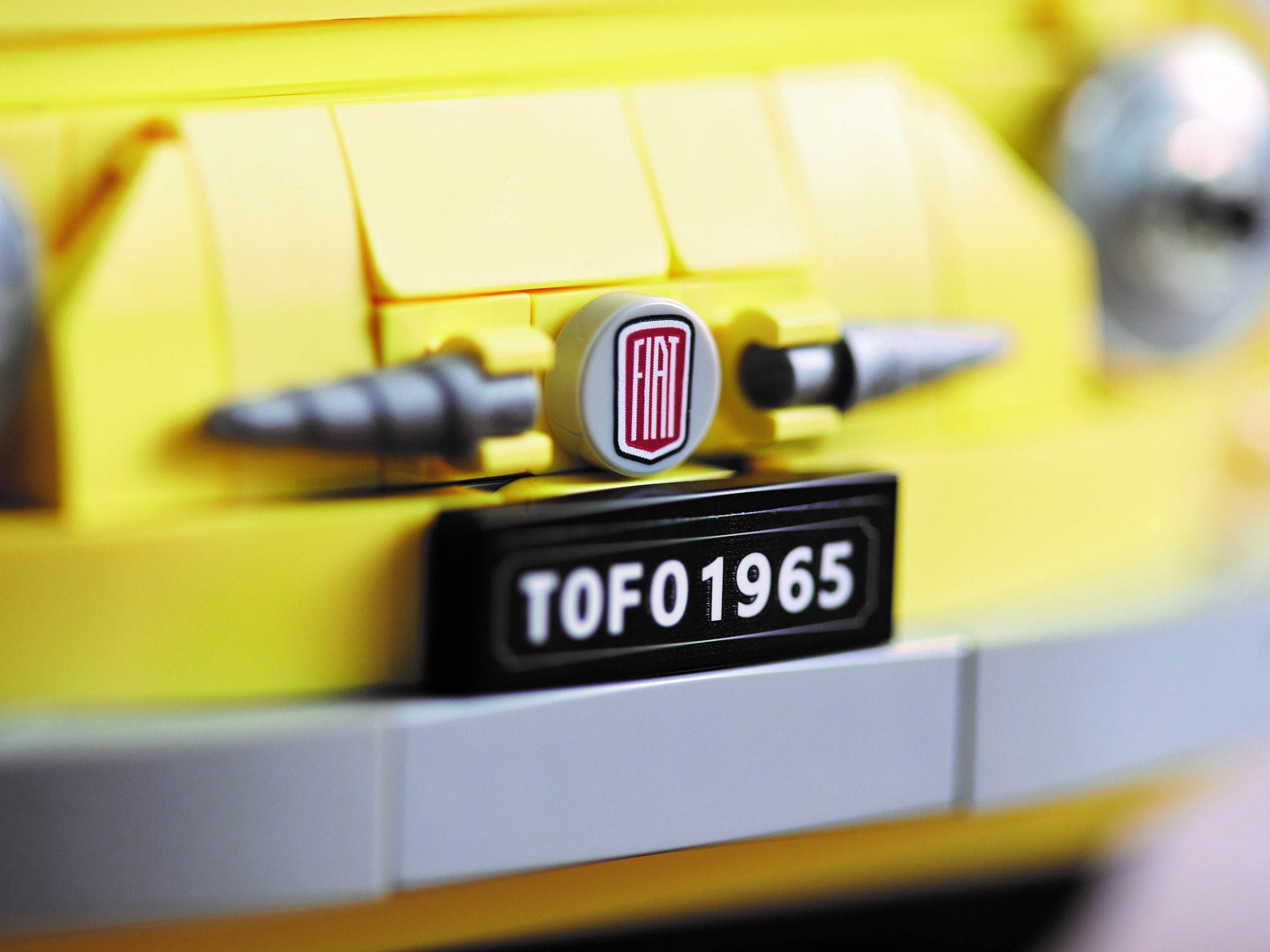 Imagens do set deste carrinho já percorreram a Internet alimentando várias teorias da conspiração. Poderia dizer muito sobre isso mas penso que a solução é simples para quem está em modo rant: a melhor forma de mostrarem o desagrado pelas atitudes de uma empresa é não comprarem os seus produtos.
Pois :)
Fica aqui o press realese:
INTRODUCING: TIMELESS ITALIAN CLASS IN LEGO® BRICK FORM
NEW LEGO Creator Expert Fiat 500 set unveiled with incredible life-sized build at Fiat's home town, Turin, ITALY 
Unveiling of incredible life-size 1:1 build of the iconic Fiat 500, built from 189,032 LEGO bricks
The event was held to announce the LEGO Creator Expert Fiat 500 set, bringing Italian charm to any LEGO vehicle collection The LEGO Creator Expert Fiat 500 is available from 1st March from LEGO.com and LEGO Stores
[Turin, 29th February 2020] To mark the launch of the first ever LEGO Creator Expert Fiat 500 set, a life-size LEGO brick model of the iconic Fiat 500 – made from 189,032 LEGO bricks and weighing 400kg - has been unveiled at Spazio MRF Mirafiori Corso Luigi Settembrini via live stream by Sky Media presenter Federica Masolin together with Camillo Mazzola, LEGO Italy and Cristiano Fiorio Fiat Chrysler Automobiles in Turin, Italy today.
To celebrate the partnership between Fiat and the LEGO Group  the 1:1 LEGO brick Fiat 500 car - taking 830 man-hours to build and featuring an original Fiat 500 steering wheel – will sit pride of place among a fleet of vintage Fiat 500s in the Fiat factory and then will go on a tour LEGO Stores across Italy in March/April. 
Pierre Normandin , LEGO Designer, said: "The Fiat 500 is a global automotive icon – having first launched in 1957 and still a timeless classic. To see it celebrated in the beautiful city of Turin with this incredible new Creator Expert set and such an epic life-size build is testament to how beloved this car is."
Cristiano Fiorio, Head of Brand Marketing Communication, FCA EMEA Region commented "Throughout its illustrious history, the Fiat 500 has surpassed its original material manifestation to take its place in the collective unconscious, becoming an international icon. This is also demonstrated by its recent exposure at the Museum of Modern Art in New York. We know well that the LEGO Group handpicks iconic products, and that the Fiat 500 is not only a car but an artistic and cultural phenomenon with strong symbolic value, as well as a joyous and colorful expression of the Italian spirit around the world."
Based on the Fiat 500F Legend from the late 1960s, this advanced building set includes a detailed interior and functioning sun roof, allowing the driver to soak up the Italian sun while cruising down the Amalfi Coast.
The 960-piece model features everything needed for a European trip, including a trunk (complete with spare tyre), a luggage rack to the rear of the car, as well as an opening hood which allows builders to inspect the engine once they have completed the model.
Included within the set is a folding easel and colour palette and a painting of the car outside Rome's famous Colosseum, allowing budding builders to create their favourite scenes in Rome and bring back memories of holidays gone by.
The set measures over 4" (11cm) high, 9" (24cm) long and 4" (11cm) wide and is an ideal build for any LEGO brick car collector or fan of Italian culture.
The LEGO Creator Expert Fiat 500 is available directly from LEGO.com and LEGO Retail stores from 1st March
Hoje não estou para muitas opiniões.. portanto talvez volte a este set noutro dia. Ou talvez não.