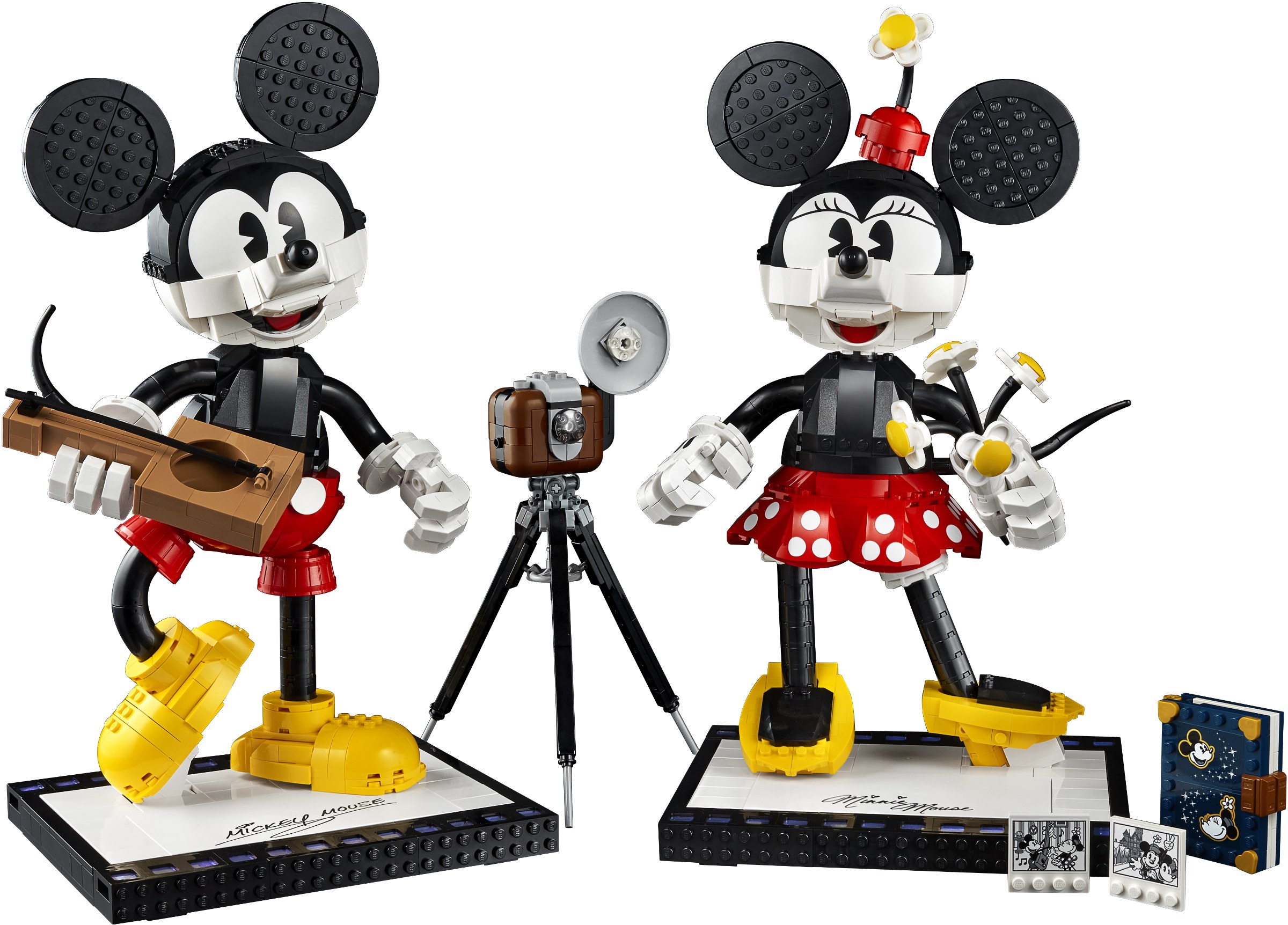 Apareceu uma leak, mais tarde foi autorizada a partilha de uma das imagens e agora temos o press release completo do set:
CREATE YOUR OWN ICONS OF THE FILM WORLD WITH THE NEW LEGO®| DISNEY MICKEY MOUSE AND MINNIE MOUSE BUILDABLE CHARACTERS
The timeless animated duo are coming to select LEGO Stores* and LEGO.com from the 1st July
[June 15th, 2020] Step back in time and get hands-on with the original animated stars of the silver screen, as Mickey Mouse and Minnie Mouse are brought to life in buildable LEGO brick form. With this brand-new construction set, fans can re-live fond memories and immerse themselves in the magical world of LEGO®|Disney , as they build their own versions of the world famous couple.
Based on Disney's iconic characters, the large-scale LEGO®|Disney Mickey Mouse and Minnie Mouse Buildable Characters are full to the brim with nostalgic and stylish details. Perfect for Disney fans looking to re-create the magic again and again, these dynamically posed models not only come dressed in their instantly recognisable original outfits, they also come equipped with a series of unique buildable accessories to pose with, including a retro camera, a guitar and a photo album complete with pictures of the iconic duo's adventures from years gone by – creating endless possibilities when it comes to displaying the beloved couple.
Helping to bring some nostalgic movie magic into any home or office, each figure in the new set also stands on a base that resembles an old-time film reel, complete with the original character signatures. With Mickey Mouse standing tall at 14 in. (36cm) high and Minnie Mouse at 13 in. (35cm), the pair make a perfect addition to any Disney fan's LEGO®|Disney collection or as a stand-alone display.
As well as making an impressive display piece, the 1,739-piece set is a mini feat of LEGO brick engineering, with LEGO designer Ollie Gregory focused on doing these classic stars of the big screen justice.
Ollie commented: "We always look to design things that people would like to put on their shelf, including my own, which is why we went for the 'classic' Mickey Mouse design with the iconic silhouette and colour palette – as a surprise for builders, the characters insides are built from colourful elements inspired by classic outfits worn by the the pair in the past. The Mickey Mouse and Minnie Mouse Buildable Characters are extremely detailed and intricate, and there were lots of challenges to overcome. For example, to create the tips of their noses we even had to bring back the LEGO Classic Space Helmet in black, which hasn't been seen since 1987. LEGO fans will also notice that we have debuted a new colour in this set, 363 – TR. Brown with Opalesence, the first time it is included in any set – so there's lots to explore with this build!"
The LEGO Group has a range of LEGO®|Disney sets that are sure to bring back loving memories of Disney films and trips to Disneyland including the LEGO®|Disney Train and Station, LEGO®|Disney Castle and the LEGO Ideas Steamboat Willie. This latest addition to the LEGO®|Disney collection has
been designed specifically with adults in mind – giving builders a creative outlet to help focus their minds and re-charge from their busy lives, as they get hands-on building these two iconic Disney characters.
The new LEGO®|Disney Mickey Mouse & Minnie Mouse Buildable characters construction set is the latest example of how the LEGO Group aims to inspire builders of all ages to build, rebuild and get excited by the process of creation. It will also feature the new stylish, adult-focused packaging in order to reflect the sophisticated nature of the creative process and allow adult builders to find products related to their passions.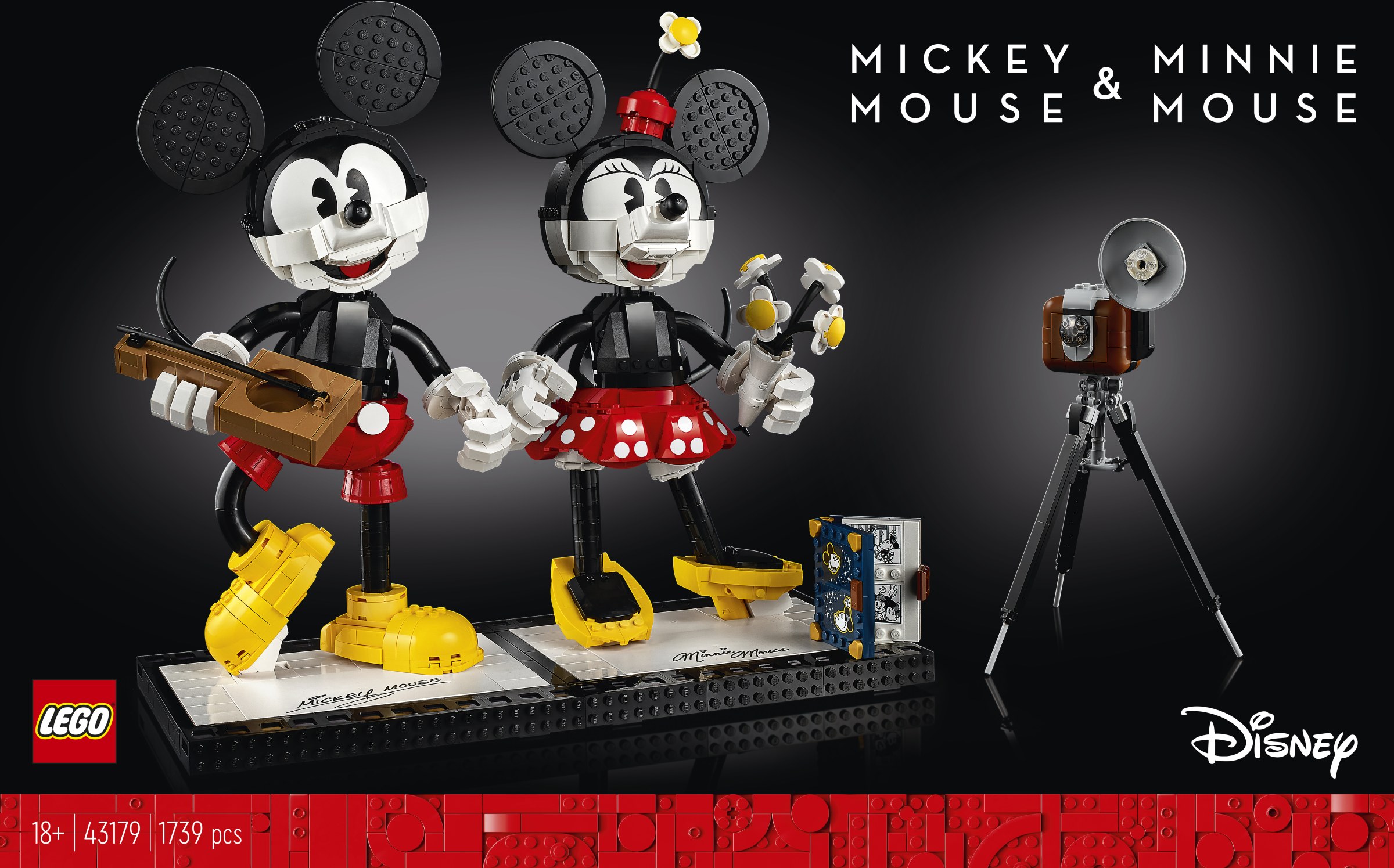 Junto temos também o texto descritivo do set:
43179 LEGO® ǀ Disney Mickey Mouse & Minnie Mouse Buildable Characters
Ages 18+. 1739 pieces
US $179.99 – CA $229.99 – DE €179.99 – UK £169.99 – FR €179.99 – DK 1399DKK
*Euro pricing varies by country.  Please visit LEGO.com for regional pricing.
Iconic Disney characters become a unique display piece!
If you're a Disney fan and love their original cartoons, this is the perfect fit! LEGO® ǀ Disney Mickey Mouse & Minnie Mouse Buildable Characters (43179) gives you a chance to focus your mind and use your hands to create a truly display-worthy item.
Fantastic retro details
Based on Walt Disney and Ub Iwerks' iconic characters, these figures feature Mickey Mouse and Minnie Mouse in dynamic poses, with several buildable accessories including a guitar, vintage camera, tripod and a photo album with photos of their adventures. Mickey stands 14 in. (36cm) high and Minnie stands 13 in. (35cm) high.
LEGO building projects for you
Take time for you, focus on an enjoyable creative challenge and make these 2 stunning, large-scale, buildable figures to display in your home or office. Part of a collection of inspiring LEGO building sets for adults interested in pop culture, art, architecture and design, they make an excellent gift for yourself or a Disney fan in your life looking for their next project.
Give yourself or a DIY lover in your life a creative experience with this LEGO® ǀ Disney Mickey Mouse & Minnie Mouse Buildable Characters (43179) set. Makes a unique display and conversation piece.

Clear your mind while building 2 large-scale, detailed figures and accessories to create and display. This set lets you experience a satisfying, hands-on build as you recharge.

Once built, these iconic characters look great on display in a home or office. You can keep them together or set up a unique scene with each figure and the included accessories.

Share your love of Disney's Mickey Mouse and enjoy this set with all its details and accessories. The engrossing build and retro look of the figures also makes this a great gift for yourself or any Disney fan you know.

Detailed, large-scale figures, with the largest model standing over 14 in. (36 cm) tall, 7.5 in. (19 cm) wide and 6.5 in. (16.5 cm) deep. This stunning set contains 1,739 pieces and can be displayed in a special place in your home.

Memories and quality alone time are waiting. You don't need batteries to enjoy this set – building these high-quality figures helps you escape your daily routine and they are designed to be displayed in your home.

The coffee-table-quality instructions help guide you through the project, with stories and vignettes to add entertainment value during building. This LEGO® set makes a perfect creative outlet to escape the daily grind.

Give adult builders like yourself 2 impressively detailed, large-scale figures in this LEGO® ǀ Disney set. The set offers you a unique build that you can put on display as a way of reflecting your love of the characters.

LEGO® bricks meet the highest industry standards, so they are consistent, compatible and connect and come apart easily every time – it's been that way since 1958.

LEGO® bricks are dropped, heated, crushed, twisted and analyzed to make sure every building set meets the highest global safety and quality standards.
E agora o que eu penso deste set.
É sem dúvida alguma um passo em frente. Reconheço que não sou propriamente um amante dos inúmeros produtos licenciados que a LEGO lança e muito menos da Disney. Sim, a minha infância está recheada de personagens Disney, principalmente das BDs do mítico Carl Barks, mas simplesmente não consigo encaixar essa nostalgia com o mundo LEGO.
Mas a edição destas esculturas com o charme muito próprio dos primeiros tempos da Disney torna este set um clássico ainda antes de sair. Mais, se tiver sucesso comercial abre importantes portas para a linha 18+. Só espero é que depois do sucesso não se esqueçam de continuar a ter produtos 18+ in-house.
Quanto ao set. Como o produto final não é propriamente do meu interesse, olho para as peças. Existem várias novas.. mas algumas delas em preto :/. É caso para dizer, quando o tiver nas mãos farei uma análise mais cuidada!