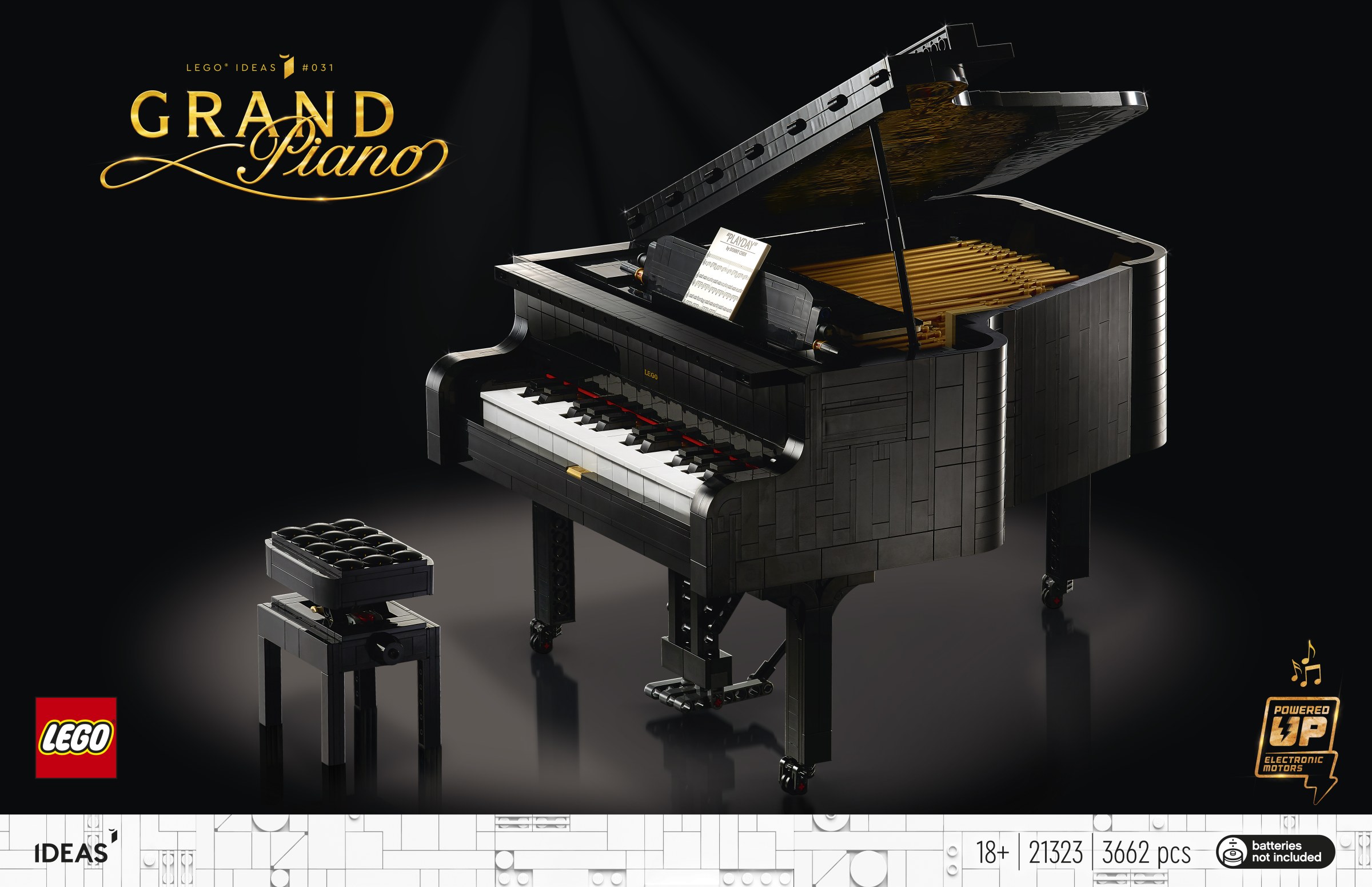 Não foi propriamente uma surpresa a LEGO aventurar-se no lançamento do projecto do Grand Piano. Já saíram dois sets no Ideas que valem pelas suas funcionalidades, o 21315 Pop-Up Book, 21305 Maze, que apesar de não me ter parecido terem sido grandes sucessos, são, sem dúvida alguma, uma boa forma da LEGO mostrar as potencialidades do sistema quanto a mecanismos.
Antes da habitual opinião pessoal sobre o conjunto, aqui ficam o press release e as informações do set.
FEEL THE RHYTHM WITH THE SPECTACULAR FAN-DESIGNED LEGO® IDEAS GRAND PIANO SET
 Imagined by an avid LEGO builder, the LEGO Group's brand-new LEGO® Ideas Grand Piano is a show-stopping set for adult music lovers and builders - available from 1st August from LEGO.com and LEGO Stores.
A dazzling idea from a keen LEGO builder and music enthusiast, has now been brought to life after receiving overwhelming demand from the public - as the LEGO Group launches the brand-new LEGO® Ideas Grand Piano™ set. The latest product is part of the LEGO Ideas collection, which conceptualises and produces the creative wonders imagined and voted for by LEGO fans themselves.
Designed with the intricate elements of a real grand piano, this brand-new set is a fully immersive build. With a clever motor and working keys, when the set is combined with the LEGO Powered Up app, fans can become musical maestros one brick and one note at a time - making it The LEGO Group's first-ever piano set with the ability to play music.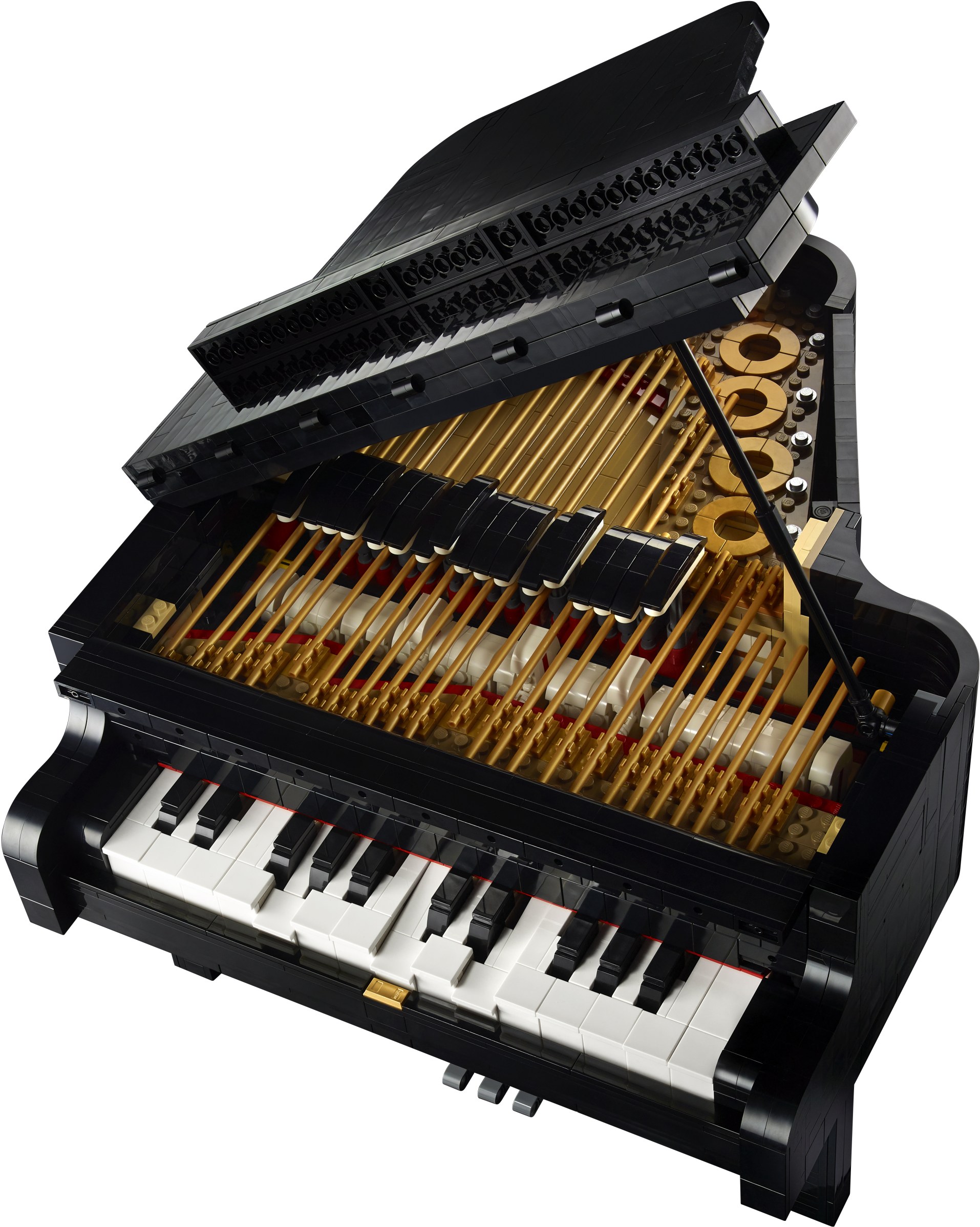 Talented builders can try their hand at creating their own masterpiece on the LEGO® Ideas Grand Piano™ using the LEGO Powered Up app, which allows them full control of the musical notes and piano keys. Alternatively, those looking to sit back and relax can choose to select 'auto-play' and enjoy the dulcet tones of one of the ten pre-set songs available.
The brand-new set is a masterpiece of craft and innovation, featuring all the makings of real-life grand piano to give an authentic musical experience in LEGO brick-form. These authentic features include a removable 25-key keyboard, a top lid that can be propped up, an authentic hammer action and a moving damper and pedal, which help to make the LEGO® Ideas Grand Piano™ as beautiful as it is functional.
Once built, the 3,662-piece LEGO® Ideas Grand Piano™ is made to take centre stage as a spectacular display model for any room, measuring over 8.5" (22.5cm) high, 12" (30.5cm) wide and 13.5" (35.5cm) deep when closed.
The new grand piano set is part of the LEGO Ideas collection, which offers fans the opportunity to submit their own brick creations with the chance to have their concept brought to life with the help of LEGO master designers and a share of the profits. Other recent LEGO Ideas sets inspired by LEGO fans, include the LEGO Ideas Pirated of Barracuda Bay and the LEGO Ideas Friends Central Perk.
Imagined by music teacher and LEGO aficionado Donny Chen, this set was designed as a way for him to combine his passion for music with his passion for building. To add to the excitement and personal feel of the build, the LEGO® Ideas Grand Piano™ even features a music sheet composed by Donny himself.
Speaking about the process, Donny Chen said: "When I'm not building with LEGO bricks, I'm teaching, tuning or writing music on my piano. So, when I first discovered LEGO Ideas, I knew I wanted to build something that not only combined my two passions, but also looked visually stunning. It's truly an honour to see my idea brought to life by the talented people at the LEGO Group and I hope it brings joy to all the other music fans who voted for the idea on the LEGO Ideas platform."
Federico Begher, VP of Global Marketing at The LEGO Group added: "We get so many amazing concepts submitted through our LEGO Ideas platform, but when we saw Donny's piano design it really stood out as something extraordinary, with great potential to become a truly unique LEGO set.   
The accompanying images and video submitted by Donny really sparked some ideas within the team. We believed that including power functions as part of the model to enable the set to play real music in real life would elevate the design even further. We simply could not pass on the opportunity to create the ultimate LEGO Ideas Grand Piano model for music and LEGO fans alike!"
The new LEGO® Ideas Grand Piano™ set is the latest example of how the LEGO Group aims to inspire builders of all ages to build, rebuild and get excited by the process of creation.
LEGO® Ideas Grand Piano™ will be available directly via LEGO.com and LEGO Stores from August 1st
21323 – LEGO Ideas Grand Piano
US $349.99 – CA $449.99 – DE €349.99 – UK £319.99 – FR €349.99 – DK 2699.0DKK

Aged 18+

3,662 pieces

Product available direct from LEGO.com and from LEGO Stores
E agora as informações:
21323 LEGO® ǀ Ideas Grand Piano
Ages 18+. 3,662 pieces
US $349.99 – CA $449.99 – DE €349.99 – UK £319.99 – FR €349.99 – DK 2699.0DKK
*Euro pricing varies by country.  Please visit shop.LEGO.com for regional pricing.
Build the first-ever playable LEGO® Grand Piano!
Do you have a passion for music? Do you like to relax by focusing on a fun, hands-on project in your free time? If so, this incredible LEGO® Ideas Grand Piano model kit (21323) is just the creative activity for you.
Beautiful and playable
Feel the pride of building a sophisticated, brick-built version of a concert grand piano that you can actually play music with! Recreate the hammer action of each piano key, the moving pedal and authentic details such as the propped-open top lid and fallboard. Turn on the motor and then you are all set to play wonderful music – select user play on the free LEGO Powered Up app to play the notes yourself or activate auto play and just listen.
LEGO sets for your lifestyle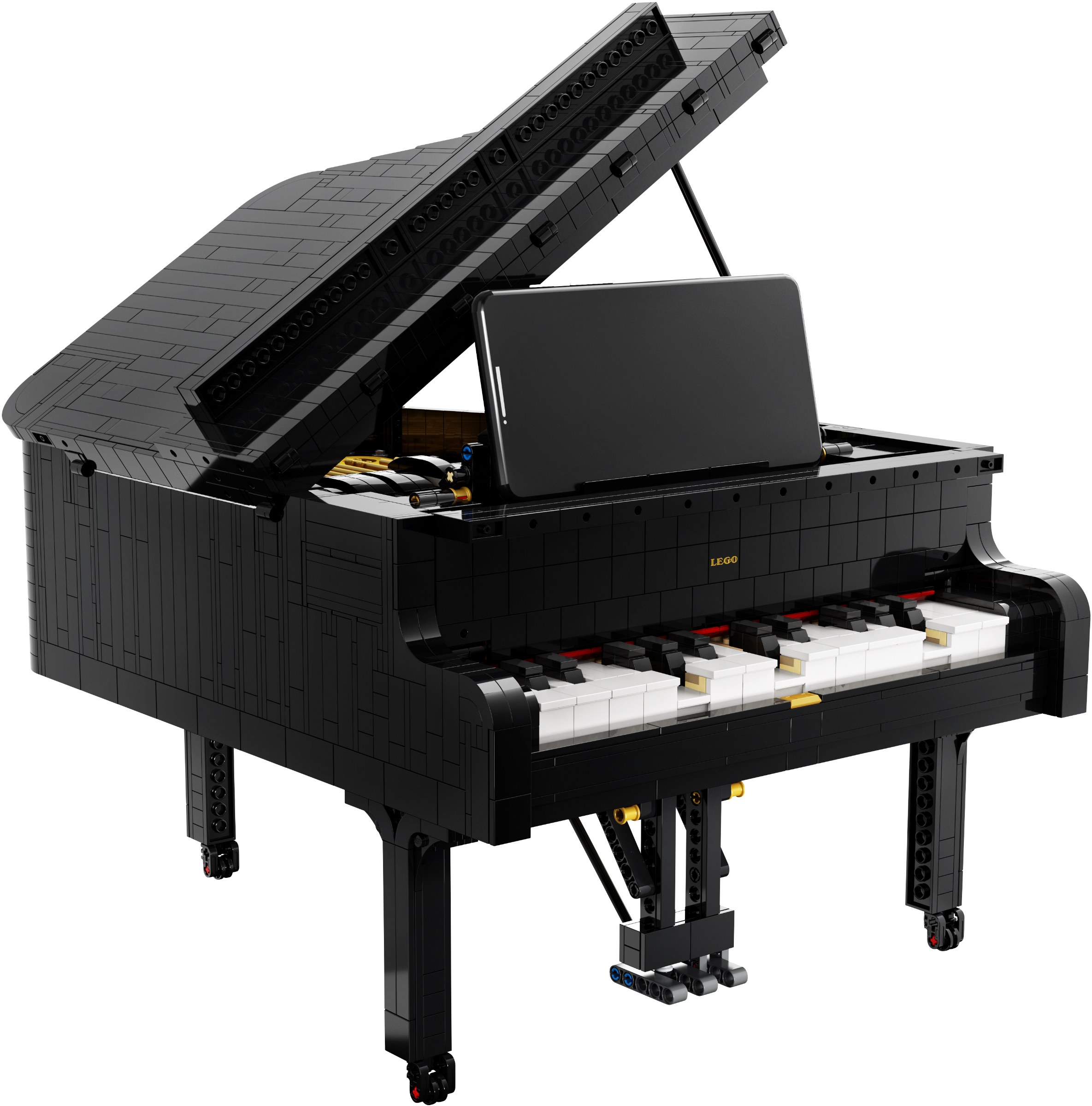 Take some time out and enjoy creating a LEGO musical masterpiece to display in your home or workplace. Part of a collection of LEGO building sets for adults, it makes a truly special birthday present or Christmas gift for yourself, the musician, piano player or hobbyist in your life.
Drum roll please as we proudly introduce the first-ever, playable LEGO® Grand Piano! Experience the hands-on pleasure of creating a highly sophisticated LEGO concert piano model and then play beautiful music with it.

The LEGO® Ideas Grand Piano (21323) has a removable 25-key keyboard, authentic hammer action, moving dampers and pedal, and motor. Combined with the LEGO Powered Up app, you can play a tune yourself or automatically.

Revel in the authentic design details of this beautiful model, from the top lid that can be propped up just like a real grand piano's, to the opening fallboard and piano leg wheels, plus a height adjustable bench.

If you are looking for a creative DIY project, this 3,662-piece model building kit is ideal for you. So, take some time out and click your stress away with a rewarding challenge that will leave you feeling revitalized.

The piano measures over 8.5" (22.5cm) high, 12" (30.5cm) wide and 13.5" (35.5cm) deep when closed. A stylish item for your home or workplace, it also makes a cool gift for musicians, music-lovers, pianists and hobbyists.

To power up the grand piano's self-playing function, you'll need 6 AAA batteries (not included) and the free LEGO® Powered Up app – choose user play to play the notes yourself or auto play to listen to 1 of 4 songs.

Clear instructions help you to build with confidence and really enjoy the process, even if you are a LEGO® newcomer. Also included is a coffee-table-style booklet about this grand piano set's fan designer and more.

This LEGO® Ideas building set for adults is part of a collection of inspiring model kits designed for the discerning hobbyist who relishes an immersive, hands-on DIY project.

Since 1958, LEGO® building bricks have met the highest industry standards, which ensures they are consistent, compatible and connect and pull apart easily every time.

LEGO® bricks and pieces are rigorously tested to meet exacting safety and quality standards, so you can be sure that this collectible grand piano model is as robust as it is beautiful.
Sem dúvida alguma é um set bastante curioso e fora do vulgar. Primeiro devo realçar a notória tentativa de mostrar a construção como algo próximo do clássico. Segundo a confirmação que o 18+ não é um tema em si, mas uma característica transversal aos temas por parte de alguns sets. Terceiro, a evidente tentativa de mostrar que o LEGO é mais que um simples brinquedo de construção tanto na complexidade das técnicas utilizadas como na engenhoca para tornar o piano funcional.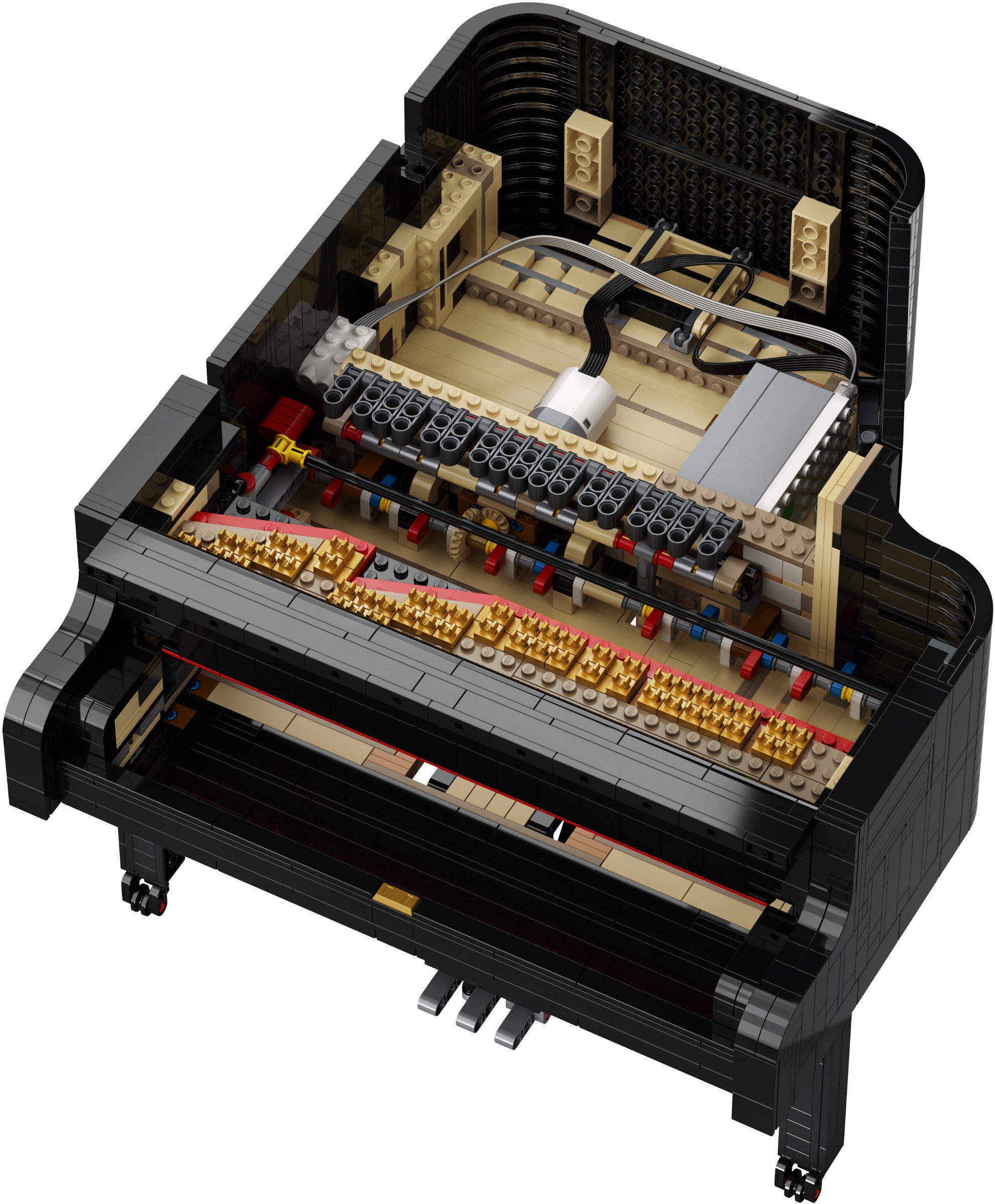 Pessoalmente acho o conjunto muito bonito e realista apesar de achá-lo demasiado alto. Acho que o "corpo" do piano está demasiado "grosso". Provavelmente isso deve-se à necessidade de espaço tanto para o mecanismo como para a imitação dos componentes internos de um piano.
A integração do Power Up com integração de telemóveis, apps, músicas etc e tal é algo que me atrai cada vez menos. Não passa de uma curiosa funcionalidade que, na minha opinião, vai ser utilizada um reduzido número de vezes (duas ou três vezes para experimentar e depois uma vez por cada amigo ou familiar que vier lá a casa) mas que no fundo é mesmo o coração deste set.
Apesar de ser bonito, realista e possuir uma funcionalidade curiosa, não entra no meu campo de interessses e, por conseguinte, na minha wish list.
edit: Press release em português:
ENTRA NO RITMO COM O NOVO LEGO® IDEAS PIANO DE CAUDA
Imaginado por um ávido construtor, o novo set LEGO Ideas Piano de Cauda é "obrigatório" para os adultos fãs de música e de construções LEGO e estará disponível a partir de 1 de Agosto.
Uma ideia mirabolante de um fã de LEGO e de música, que ganhou vida depois de receber uma grande aceitação por causa por parte do público, resultando no set LEGO® Ideas Piano de Cauda, o último lançamento da linha LEGO Ideas, que aproveita as ideias dos fãs, votadas pelos próprios.
Desenhado detalhadamente com os elementos que compõem um piano real, este novo set é uma experiência imersiva de construção. Com um motor e teclas funcionais, quando o set é combinado com a App LEGO Powered Up, os fãs podem-se tornar em verdadeiros maestros, uma peça e uma nota de cada vez, tornando o set no primeiro piano do Grupo LEGO que pode tocar música.
Os construtores mais talentosos podem deitar mãos à obra e criar a sua própria obra prima com o LEGO® Ideas Piano de Cauda, usando a app Powered Up, que lhes permite controlar as notas musicais e as teclas do piano. Para aqueles que querem apenas sentar-se e relaxar, podem escolher o "auto-play" e desfrutar as notas das dez músicas disponíveis.
O novo set é uma obra-prima de engenho e inovação, onde figura todo o processo de construção de um piano real, em forma de LEGO, para dar uma experiência autêntica, incluindo um teclado amovível com 25 teclas, com tampa, pedal e abafador e um movimento autêntico de martelo, tornando o Piano de Cauda tão bonito quanto funcional.
Depois de construído, o set com 3662 peças é a peça ideal para exibir em qualquer sala, medindo 22,5cm de altura, 30,5cm de largura e 35,5cm de profundidade, fechado.
O novo set é parte da linha LEGO Ideas, que dá aos fãs a oportunidade de submeter as suas criações numa comunidade segura, tendo a possibilidade de as ver ganhar vida num set LEGO, com ajuda de um designer da marca e partilhar os lucros da venda do mesmo. Desta linha saíram também sets como o LEGO Ideas Piratas da Ilha da Barracuda ou o LEGO Ideas Friends Central Perk.
Imaginado pelo professor de música e fã de LEGO Donny Chen, o set foi desenhado para juntar as suas duas paixões. Para adicionar à experiência, o set LEGO Ideas Piano de Cauda contém uma pauta composta pelo próprio Donny.
Sobre o processo, Donny Chen, diz: "Quando não estou a construir com peças LEGO, estou a dar aulas, a tocar ou a compor música no meu piano. Por isso, quando descobri o LEGO Ideas, sabia que queria construir algo que combinasse as minhas paixões e fosse visualmente bonito. É uma grande honra ver a minha ideia ganhar vida com a ajuda das talentosas pessoas do Grupo LEGO e espero que traga muita alegria aos outros fãs de música que votaram na plataforma LEGO Ideas."
 Federico Begher, VP de Global Marketing no Grupo LEGO acrescenta: "Recebemos várias ideias incríveis na plataforma LEGO Ideas, mas quando vimos o piano do Donny saltou-nos à vista como uma peça extraordinária, com potencial de se tornar um set LEGO Ideas único.
 As imagens que acompanhavam e o vídeo submetido pelo Donny deram logo muitas ideias à equipa. Acreditamos que incluir as Power Up Functions no set para lhe permitir tocar música de forma real, ia tornar o design ainda mais espetacular. Simplesmente não podíamos deixar passar a oportunidade de criar este LEGO Ideas Piano de Cauda para os fãs de música e de LEGO."