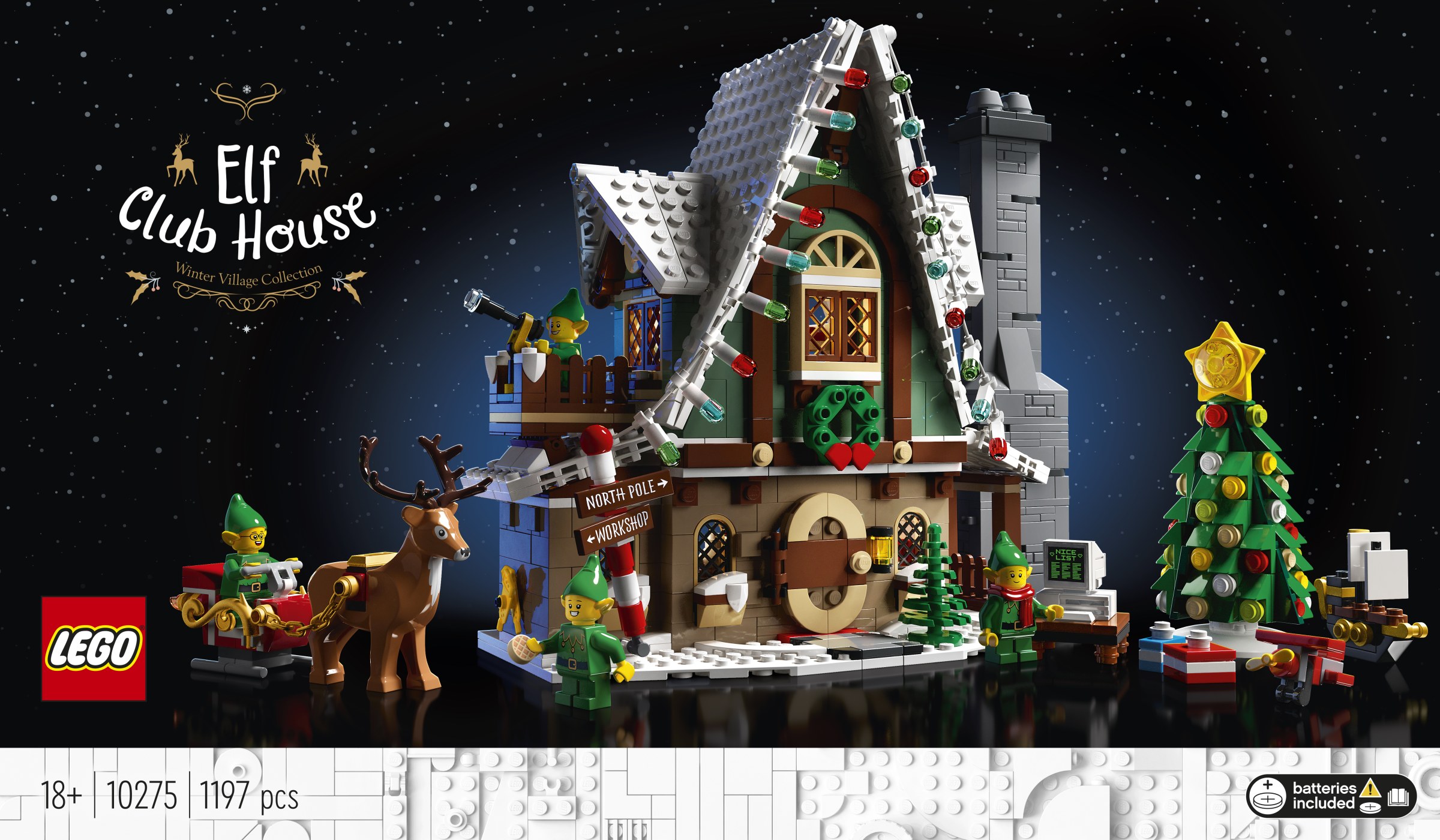 Não é propriamente novidade mas aqui temos mais um Winter Village para aumentar esta série que prima pela qualidade e originalidade.
No momento em que escrevo estas palavras já construí uma boa parte deste conjunto, portanto já tenho uma boa opinião sobre ele. No entanto deixo-vos apenas com o press release oficial e mais um Q&A com o autor, já que conto que brevemente disponibilize os habituais vídeos de unboxing, time lapse building e análise bem como o review aqui no blog.
BUILD THE LEGO® ELF CLUB HOUSE AND BRING THE MAGIC OF CHRISTMAS INTO YOUR HOME
 The latest set in the LEGO® Holiday collection the Elf Clubhouse is a delightful addition to any holiday display, available from LEGO Retail Stores and LEGO.com from the 23rd of September.
Experience the magic of Christmas this holiday season and discover the quaint cottage that is home to Santa's Elves, with the latest LEGO holiday set – the LEGO® Elf Clubhouse. Jam-packed with seasonal touches, the LEGO® Elf Club House allows families to escape the chaos of holiday season, immerse themselves in the fantasy world of holiday season and create a new festive building tradition.
The LEGO Elf Clubhouse is a truly magical set, with festive features which offer a glimpse into the everyday lives of Santa's little helpers – including a waffle machine to help them re-fuel after a long day of toy making, a brick built repositionable chimney and even a 'sleighport' to park the elf's sleigh in, ready to load up with presents for adults and children alike.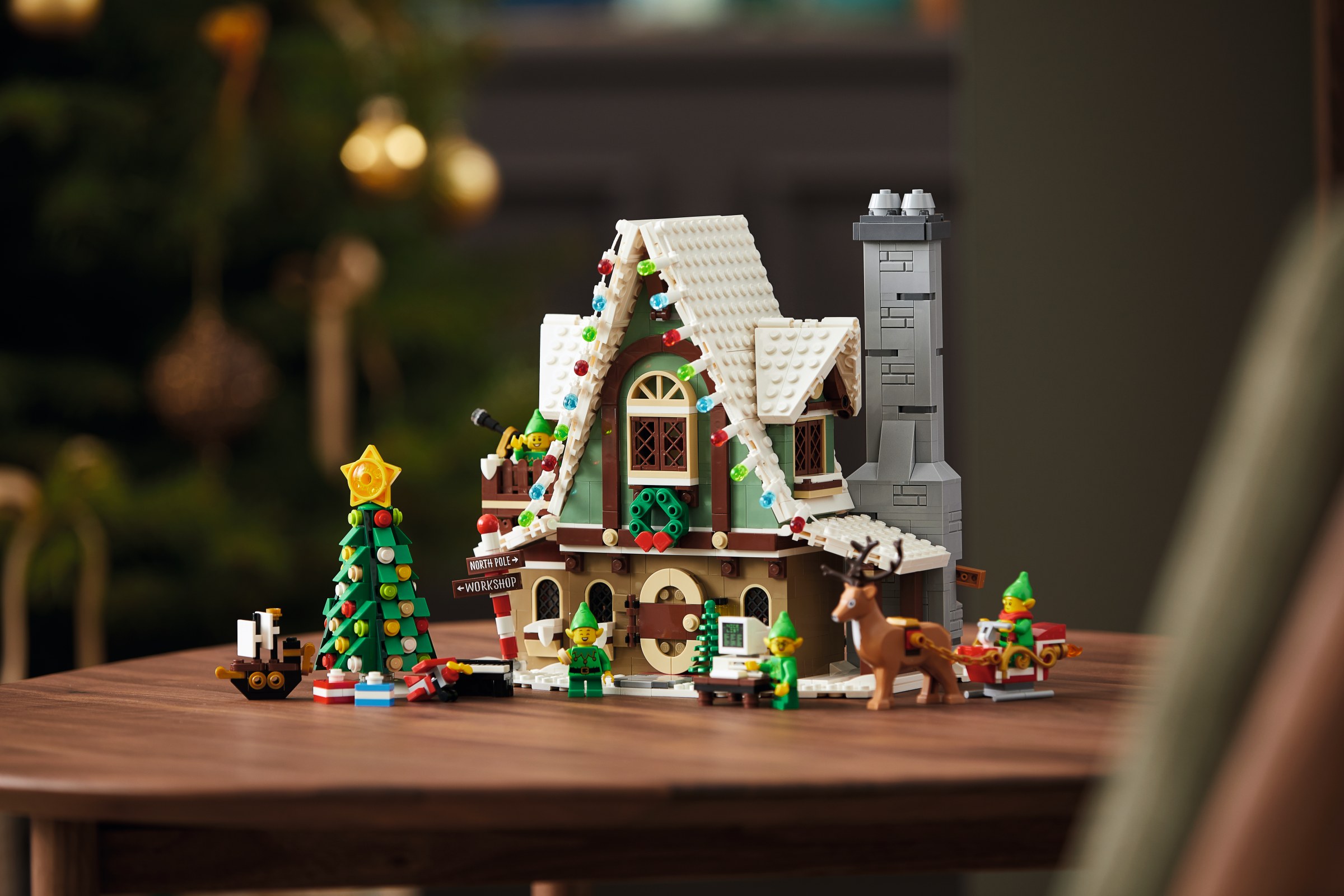 This brand-new holiday set is the perfect festive family tradition and a way for families (naughty or nice) to enjoy the magic of Holiday season and build together to bring their ultimate Christmas fantasy to life. Deck the halls with the LEGO® Elf Clubhouse Christmas Tree, which is brimming with colourful baubles, sneak under the Christmas tree a selection of toys and small gifts the elves have prepared for each other and watch Santa's sleigh take off into the night sky with the telescope. You can even use the computer to track who has been naughty and who's nice!
Once you've finished your DIY project, The LEGO® Elf Clubhouse, which measures at 8.5" (22cm) high and 5" (13cm) deep, makes a stunning display piece - with a LEGO light brick included in the set to help illuminate the festive scene. Add it to other sets in the LEGO Holiday collection, including the LEGO Creator Expert Gingerbread House and the LEGO Creator Expert Winter Village Fire Station to create a decorative festive display.
"It's amazing to be able to turn my hand to such an iconic set of LEGO models – Holiday season has always been a special time for me and my family, so getting into the festive spirit always come easily when I'm designing (and if I ever struggle, putting on Walking In A Winter Wonderland always helps put me in the right mindset!).  For the LEGO® Elf Clubhouse I wanted to explore the world of Santa's Elves and work out what they do after they've had a long day making toys, giving a glimpse into their secret world, whilst also creating an iconic holiday set that reflects the architecture of alpine chalets. There are so many brilliant pieces within this set, but my favourite piece is the reindeer, which is brand new to addition to this set – I like to call it Brixen! "
LEGO Elf Club House™ will be available directly via LEGO.com and LEGO Stores from 23rd September
10275 – LEGO® Elf Club House
RRP £84.99, €94.99, $99.99

Aged 18+

1,197 pieces

Product available direct from LEGO.com and from LEGO Stores
E agora o Q&A com Chris McVeigh:
Q&A with Chris McVeigh the LEGO designer behind LEGO Elf Clubhouse and Brick Sketches
Q: What was your inspiration for the LEGO Elf Clubhouse?
I thought it would be great fun to explore the world of Santa's Elves. Where do they go after a hard day's work making toys? What do they do for fun? Do they give gifts to each other for Christmas? In terms of architecture, the set was inspired by both alpine chalets and Tudor-style homes, with a dash of Christmas magic for good measure.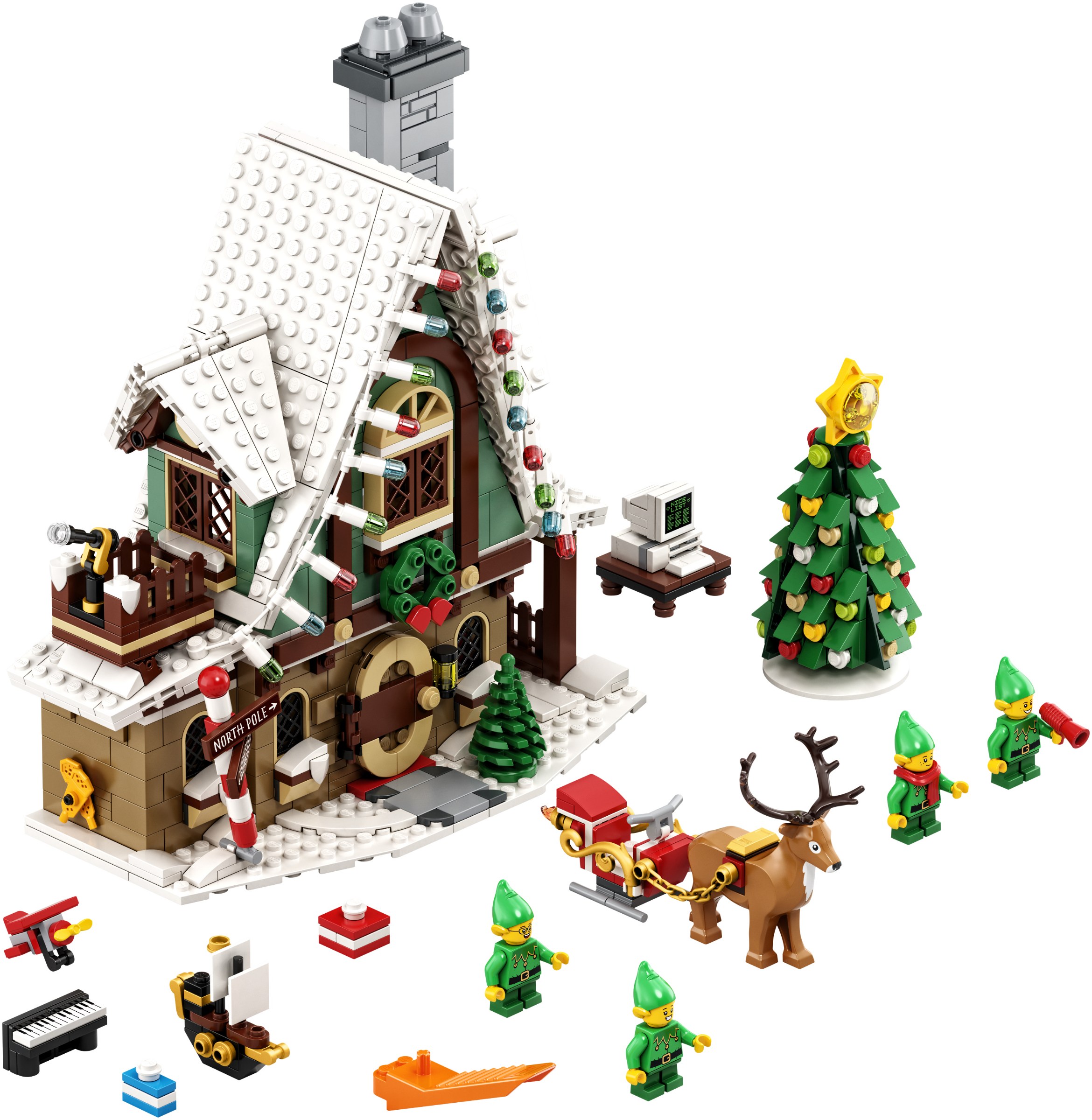 Q: What is your favorite element of this set?
The reindeer, which is all-new with this set! I like to call her Brixen.
Q: Are there any Easter eggs or interesting designing anecdotes you can tell us about the set?
Before working for LEGO, I was known for building old computers out of LEGO bricks. So, I thought it would be a fun nod to my past to include a small brick-build computer in this set.
Q: How do you find your inspiration for the holiday sets?
Christmas has always been a special time of year for my family and so I have many warm memories to look back on. And if I am ever struggling, listening to a Christmas carol like Silver Bells or Winter Wonderland will instantly put me in the right frame of mind.
Q: What is your inspiration for the brick sketch models that you have also been designing?
A few years ago, I was part of an artist's group on a social media platform, and at the time, a number of talented artists in the group were creating amazing marker sketches on small cardstock as way to promote their artwork. I thought it would be fun to participate, but I wanted to put my own spin on it. So, I created what I called a "Brick Sketch," which was a LEGO character portrait on a 12x16 canvas. Although the first on I posted was a bit tongue-in-cheek, people reacted so positively that I was encouraged to build more!
Q: How long have you been building with LEGO brick products for?
I spent much of my childhood building towns and cities out of LEGO. But like many people, I set LEGO aside during my teenage years as I focused on school and university. Thankfully, I was given two small LEGO Star Wars sets as part of a gift exchange in 2006. These were the first two sets I'd built in over a decade, and thy put me on a path that would bring me to Billund. (And thank you, Jason, and Stephanie, for 7139 Ewok Attack and 7251 Darth Vader Transformation!)
Q: How did it feel to turn your passion as a LEGO fan into a full-time job?
It has been an amazing journey, really. I feel very fortunate.
Q: How did this opportunity come about/ how did you get LEGO's attention?
Although many people at LEGO were aware of my work as a fan designer, I went through the normal recruitment process to get my design job.
Q: What is the process you go through when designing a new set like the Elf House?
I like to start by sketching concepts. It helps me articulate shapes and explore different styles. Once I have some solid ideas, I start building physical models. It is then a matter of refining the build and adding lots of fun little details.
Q: What's the biggest challenge with building a holiday set?
The roof. Finding just the right angle and coming up with a clever way of mounting the roofs is a huge challenge. But it is very rewarding when you engineer something that works well.
Q: Favorite building technique used in this set?
The Elf Clubhouse has several interesting techniques. I think my favorite is using Plate 1x2, rounded to create a wreath. And although it is less visible, I am also pleased with the staggering of the 1x1x5 bricks in the chimney to give it added structural stability.  
Q: What advice would you give to aspiring LEGO designers?
Keep building! The more you build, the more you understand the full range of possibilities with LEGO bricks. Also keep an eye out for new elements and how you can use them to improve your models. How you present your model is also important, so take time to learn about photography, experiment with lighting, and do not be afraid to trying something different!