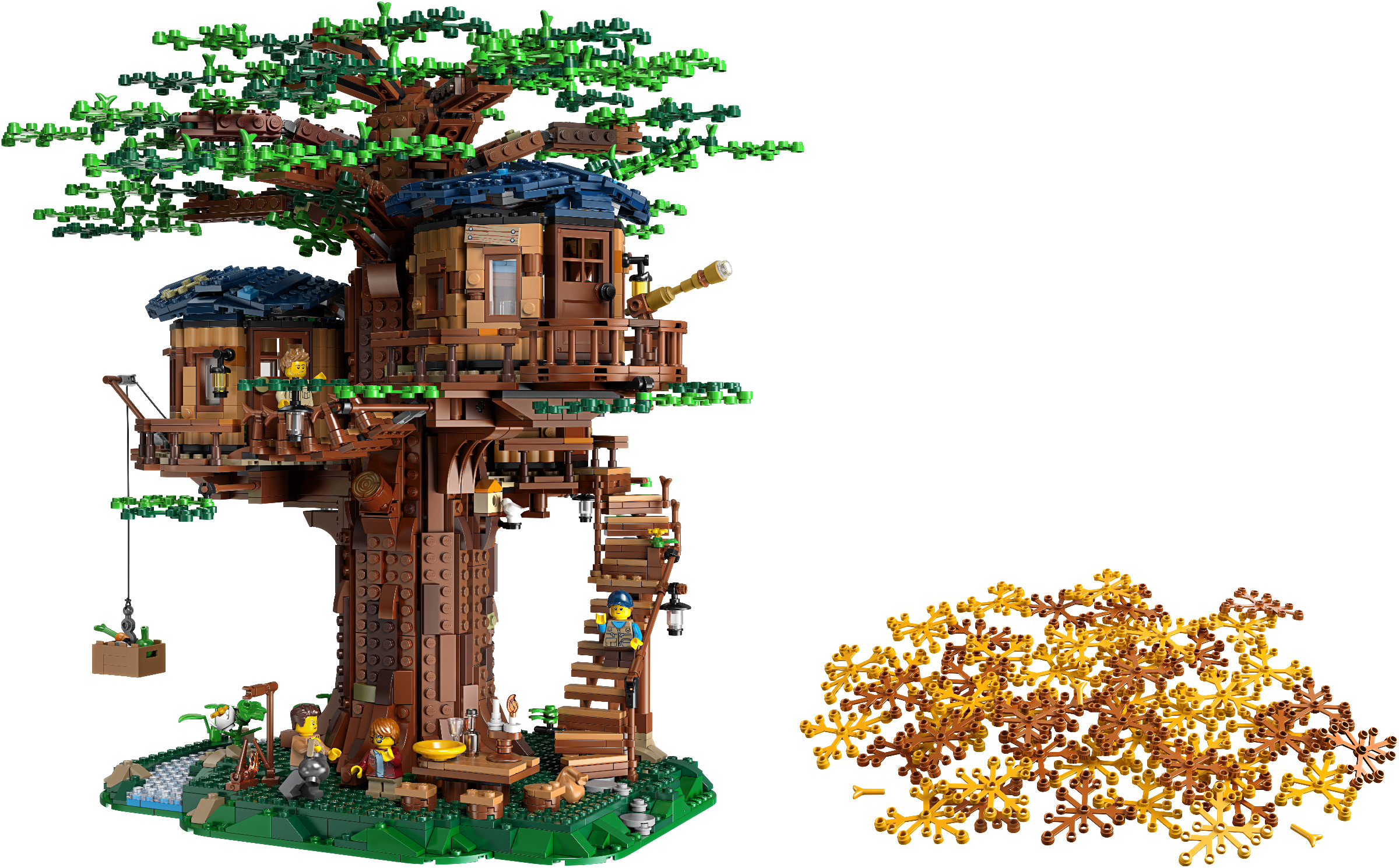 Engraçado, o nome com que me chegou o press release é 21318 LEGO Ideas Tree House. Talvez para vincar a origem do conjunto e, se calhar, também para distinguir de outros conjuntos (nomeadamente Friends e Creator) que foram lançados recentemente. É que este conjunto tem tudo para merecer distinção.
Vou ser sincero, não apostaria que o projecto original (aqui) chegasse aos 10 000 apoiantes e chegando também não apostaria que a LEGO o lançasse (apesar de achar que valeria a pena). Ainda bem que não apostei :)
Ainda bem porque é para este tipo de sets que acho que o Ideas vale a pena. Ideias novas e refrescantes que não estão dependentes de licenças. Sim, os Ideas licenciados são óptimos para atrair possíveis novos AFOLs, mas estes são excelentes para AFOLs. AFOLs que o que lhes interesse realmente é o LEGO. Sim, penso que os expoentes máximos do programa Ideas são sets como o 21109 Exo Suit, 21301 Birds, 21310 Old Fishing Store entre outros.
Mas antes de começar a opinar sobre este conjunto, fica aqui o habitual press release:
21318 LEGO® Ideas Tree House
Ages 16+. 3036 pieces
US $199.99 – CA $269.99 – DE €199.99 – UK £179.99 – FR €199.99 – DK 1799DKK –AUS $279.99
*Euro pricing varies by country.  Please visit shop.LEGO.com for regional pricing.
Detailed Tree House model to challenge LEGO® builders and inspire endless play!
Build, display and play with this intricately detailed, 3,036-piece LEGO® Ideas 21318 Tree House playset. A complex build for experienced LEGO builders that all the family will love to play with, it features a landscape base and 3 LEGO tree house cabins—a main bedroom, bathroom and kids' room. The tree has interchangeable sets of green summer leaf elements and yellow and brown fall leaf elements—these and various plant elements on the base are all made from sustainable-plant-based polyethylene plastic—and the treetop and cabin roofs are removable to allow easy access. The model is packed with play-inspiring features including a buildable picnic table and seats, swing, bonfire, treasure map and hidden gem element to play out a treasure hunt, and a wind-up crane on the balcony of the bedroom cabin. A great birthday gift, this unique creative toy comes with mom, dad and kids minifigures, plus a bird figure, to role-play fun family scenes. It also includes a booklet with building instructions and information about this LEGO Ideas set's fan creator and LEGO designer.
This LEGO® Ideas set includes 4 minifigures: mom, dad and 2 children, plus a bird figure.

This challenging, 3,036-piece building toy features a landscape base, tree with interchangeable sets of green (summer) leaves and yellow and brown (fall) leaves, and a LEGO® Tree House with 3 cabins—main bedroom, bathroom and kids' room.

The treetop and cabin roofs are removable for easy access and play.

Landscape base features a buildable picnic table with 4 minifigure seats and assorted elements to create a picnic, plus a buildable stream, swing (hanging from the tree), bonfire, hidden gem element, plant and bush elements, and a ladder to the cabins.

Tree foliage features over 180 botanical elements made from plant-based polyethylene plastic using sustainably sourced sugarcane. Assorted plant elements around the tree are also made from this plant-based plastic. This is the first milestone in LEGO® Group's ambitious commitment to make products using sustainable materials by 2030.

Main bedroom cabin features a buildable bed, and assorted elements including hidden scissors (as a reference to the fan creator's day job as a hairdresser), ship in a bottle, compass, clock plus a balcony with a hand-operated, wind-up crane to lift items up to the cabin.

Bathroom features a buildable bathtub, toilet and sink.

Kids' room features bunk beds and assorted elements such as a book and treasure map.

This LEGO® Ideas creative toy comes with a booklet with building instructions and information about this awesome set's fan creator and LEGO designer.

Measures over 14" (37cm) high, 10" (27cm) wide and 9" (24cm) deep.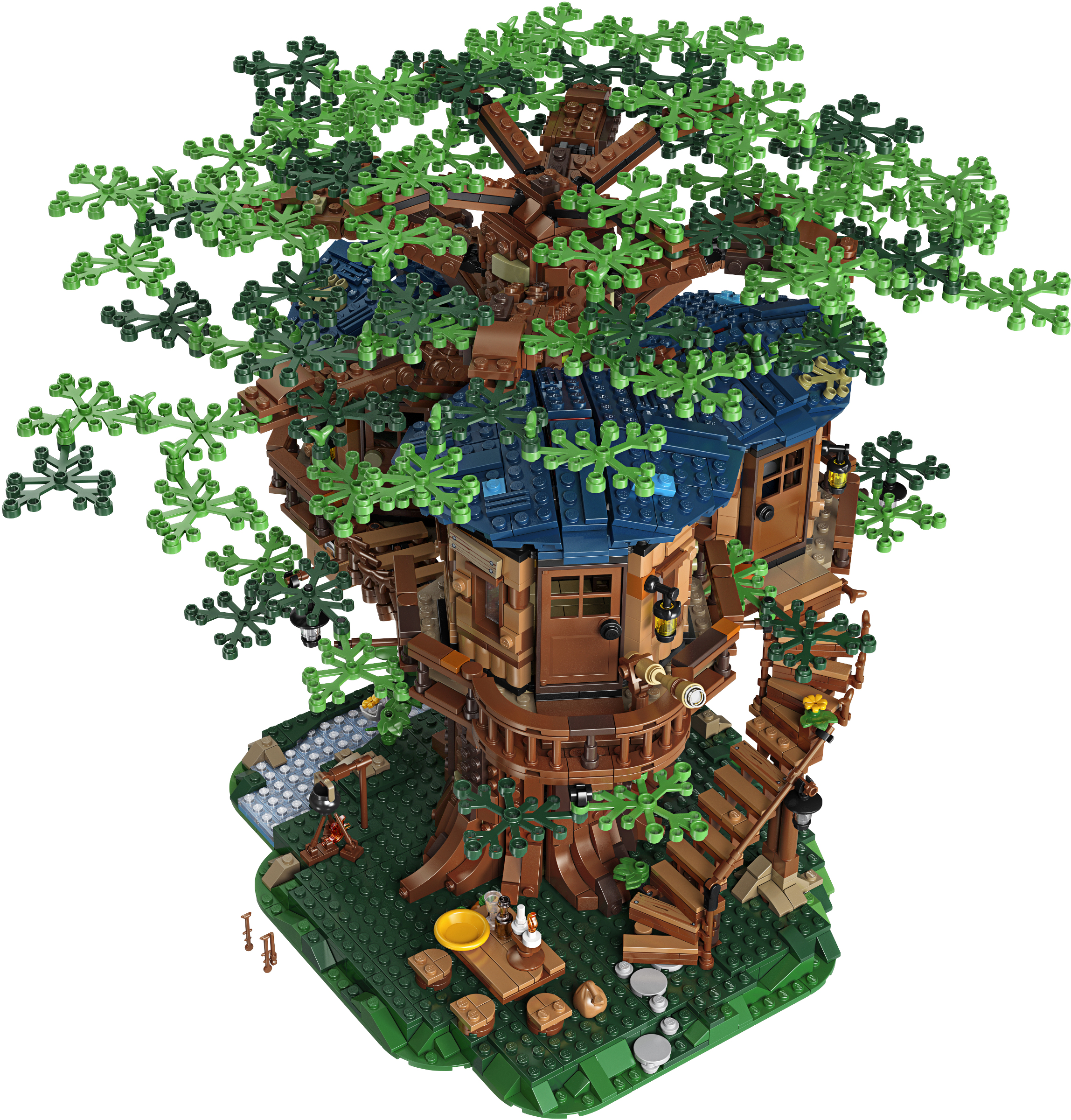 Desta vez a LEGO também disponibilizou alguns factos sobre este set:
LEGO IDEAS Treehouse  
The LEGO Ideas Treehouse celebrates Kevin Feeser's design for its endless creativity that its unique to the LEGO System in Play and its embodiment of the LEGO Group's sustainable materials challenge.

All 185 leaves and plants in the treehouse are made from plant-based plastic – the largest number of plant-based elements in a LEGO set so far.

A list of the elements made from plant-based plastic is included on the top of the packaging.
The LEGO Group's sustainable materials mission 
The LEGO Group is on a mission to make all LEGO bricks sustainably by 2030.

For the LEGO Group, a sustainable material must have a reduced environmental footprint, be produced responsibly using renewable resources, and meet our high standards for safety, quality and durability. 

High standards for sustainability, safety, quality and durability mean that there are no simple replacement materials on the market, and the LEGO Group is working with suppliers, research institutions and other industries to develop new materials to be used in the LEGO bricks of the future. 

The LEGO Group has an ambition to find sustainable packaging alternatives by 2025 that are renewable, efficient and recyclable.
LEGO elements made from plants 
All the trees, leaves and bushes and many of other elements in our LEGO sets, more than 80 types, are now made from green polyethylene, which is made from ethanol produced from sustainably sourced sugarcane.

The sugarcane is grown in Brazil, is sourced responsibly and does not compromise food security. 

Polyethylene is just one of many materials used in LEGO elements, and the LEGO Group expects the materials of the future will be made from both plant-based and recycled sources. 

Customers can expect the same high quality of ourplant-based elements. The elements do not biodegrade…because we want to make safe, functional and durable products that can be played with for generations.
A LEGO destaca, e bem, a sua preocupação e investimento na questão do sustentável (o neo-ecologismo dos anos 80), algo que daria para uns bons artigos de opinião, não fosse a minha crónica falta de tempo.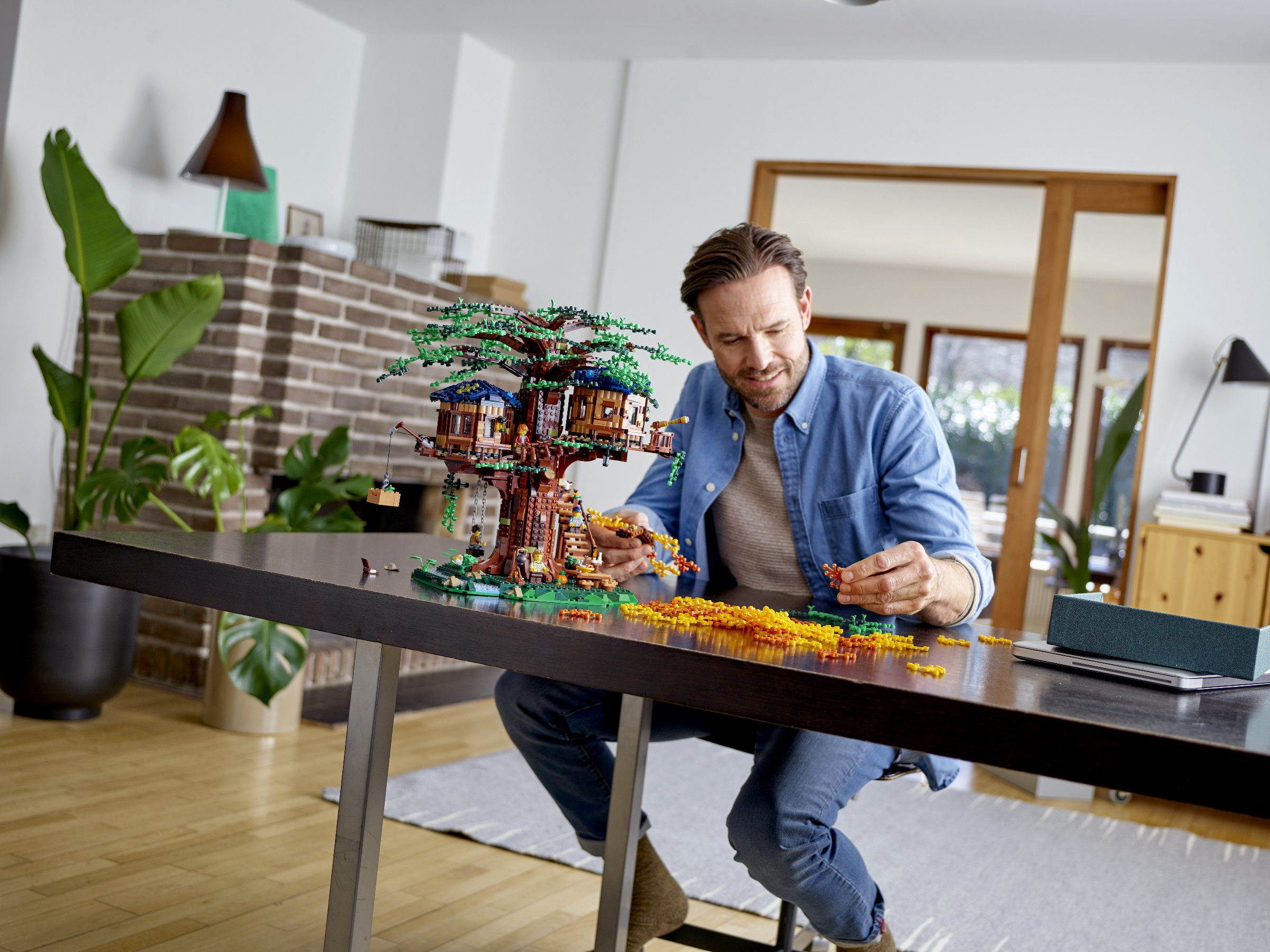 Este conjunto do nosso César "CesBrick" Soares, baseado no projecto do KevinTreeHouse, tem tudo para ser um sucesso. O César pelo seu estilo de construção enquanto AFOL tem todos os conhecimentos para fazer do projecto original, um set interessante não só a nível da jogabilidade, mas também como uma estrutura imponente, vistosa e com técnicas avançadas que tornem a construção um deleite.
Confesso que estou muito curioso quanto à construção deste set e estou mesmo perto de o integrar na minha wishlist. Além disso deve ter um manancial de peças interessantes e úteis.