Ora aqui algo que já não é propriamente uma novidade. A existência deste set já era ventilada há já alguns meses e a maior parte das fotografias foram conhecidas no final da semana passada.
O estádio do Manchester United vai ser o próximo grande set Creator Expert. Aqui fica o press release em Português deste lançamento:
LEGO CELEBRA OS 110 ANOS DO OLD TRAFFORD
"Teatro dos Sonhos" eternizado em LEGO
 Agora pode construir aquele que é provavelmente um dos mais icónicos estádios do futebol mundial, o Old Trafford, casa do Manchester United F.C., com esta homenagem da LEGO aos 110 anos de história do "Teatro dos Sonhos".
Desde a sua construção em 1910, o Old Trafford tornou-se um dos mais icónicos estádios de futebol do Mundo, vendo despontar talentos como Bobby Charlton, David Beckham ou mesmo Cristiano Ronaldo e sendo a casa de um dos mais bem-sucedidos clubes do futebol mundial, o Manchester United Football Club. Aquele que foi apelidado de "Teatro dos Sonhos" por Bobby Charlton é agora homenageado pela LEGO, com um set que nenhum fã de futebol vai querer perder.
São 110 anos de história, de gritos de alegria e lágrimas de tristeza, de paixões e de alegria, de futebol agora "capturados" em peças LEGO, à escala 1:6000, num set que promete fazer as delícias dos mais de 659 milhões de fãs do clube em todo o Mundo. Este modelo de 3898 peças inclui pormenores como o a Trinity Statue, que celebra os heróis do clube Bobby Charlton, George Best e Denis Law, ou o Munich Memorial Clock, o relógio perpetuamente parado à hora do desastre aéreo de Munique, que vitimou parte da equipa do Manchester United em 1958.
"Criar o Old Trafford em LEGO foi um desafio tremendo para a equipa e não podíamos estar mais satisfeitos com o resultado. Os 110 anos do estádio contêm em si vários locais e histórias para contar, à medida que se constrói este set. Estamos muito contentes por poder proporcionar aos fãs esta experiência de descoberta de legado e pormenores, enquanto constroem e depois expõem este icónico estádio." Disse Michael Psiaki, LEGO Design Master, responsável pelo set.
O set LEGO Creator Expert 10272 Old Trafford – Manchester United terá 18,5cm de altura, 47 de comprimento e 39 de largura, inclui um livro de instruções com a história do estádio e dos designers que lhe deram vida. Estará à venda a partir de 1 de Fevereiro (tendo os LEGO Vip Members acesso a partir de 16 de Janeiro) e estará disponível a partir dos 269,99€. 
Agora o habitual em inglês:
10272 Old Trafford - Manchester United
Ages 16+. 3898 pieces
US $299.99 – CA $349.99 – DE €269.99 – UK £249.99 – FR €269.99 – DK 2199DKK
*Euro pricing varies by country.  Please visit LEGO.com for regional pricing.
Build and display a brilliantly detailed Old Trafford model.
Manchester United fans will love building this big LEGO® set model of Old Trafford (10272) to show their allegiance to one of the world's most famous football clubs. The building set for this LEGO football stadium provides a fun challenge to create a spectacular showpiece model.
The ultimate Manchester United gift
Manchester United fans can show off this Old Trafford replica at home or the office. New for February 2020, this LEGO® Creator sports set coincides with the stadium's 110th anniversary. This building kit for adults features several evocative details including the players' tunnel and the statue of the United Trinity.
Bring to life your passions with advanced LEGO® sets!
LEGO® Creator Expert advanced building sets allow adults to construct models based on some of their biggest passions, including cars, buildings and stadiums. Once the challenging and fun building experience is complete, these collector models from building bricks make an eye-catching display at home or the office.
A spectacular building set for adults to create a detailed model of Old Trafford. The perfect Manchester United gift for fans who want to show their undying support by displaying this LEGO® football stadium.

A building kit of a 1:600 replica model of Old Trafford. This LEGO® football stadium provides a fun and rewarding project and allows fans to relive their cherished memories of Manchester United with this detailed model.

The first opportunity to construct a replica of Manchester United's Old Trafford from building bricks. The LEGO® Football stadium makes for a stunning showpiece at home or the office.

This 3,898-piece big LEGO® football set for adults makes for a unique Manchester United gift. It offers escapism for builders with a long and satisfying project, and the chance to show their passion for their club.

The Old Trafford-Manchester United LEGO football stadium measures 6.5" (18.5cm) high, 18" (47cm) long and 15" (39cm) wide. The perfect size to feature authentic details including the players' tunnel and a statue of Sir Alex Ferguson.

No batteries required for this advanced building set, so the final whistle will never blow at this LEGO® football stadium.

This LEGO® set provides the ultimate building experience, and for you to be guided through the rewarding process with easy-to-follow, step-by-step instructions.

LEGO® Creator Expert model advanced building sets allow adults to indulge in challenging projects to create collector toys based on some of their biggest passions including cars, buildings and stadiums.

LEGO® building bricks have met the highest industry standards for over 60 years, ensuring they are always consistent, compatible and pull apart with ease every time.

You know you are safe with LEGO®. Our bricks and pieces have been relentlessly tested and meet the highest global safety and quality standards..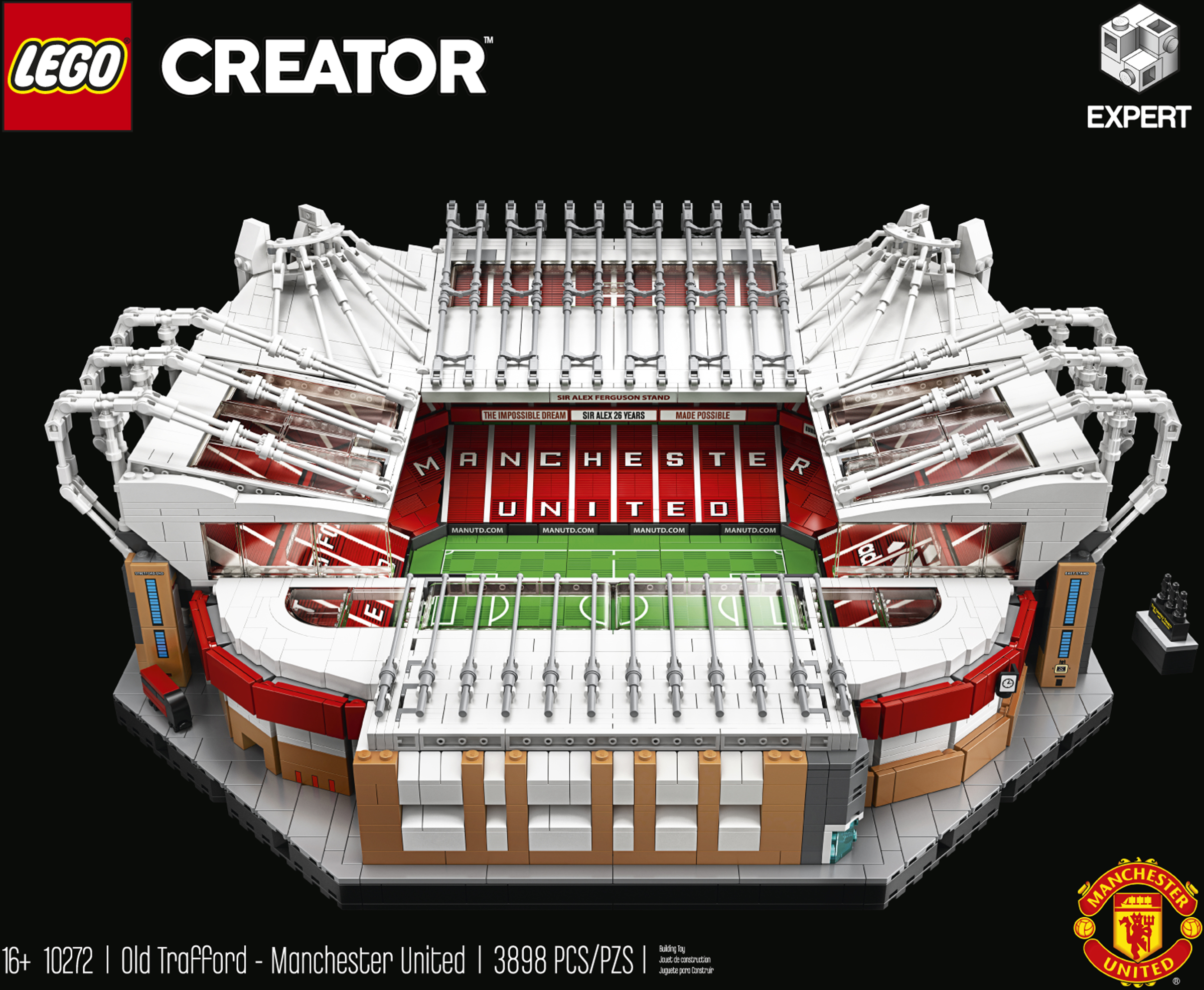 Yeah, completamente direccionado para os aficionados do mundo do futebol, sejam do Manchester United ou não, e que não percebam patavina de LEGO.
Mais umas palavrinhas sobre o set neste press release:
Celebrating 110 years of Old Trafford  - iconic stadium gets its own LEGO® set
For the first time ever, Manchester United fans can now build and showcase a unique and authentic LEGO® model of the 'Theatre of Dreams'.
[Billund, January 13th] Manchester United and LEGO® fans alike can now build Old Trafford brick by brick. The 3898-piece LEGO Creator Expert model is a spectacular tribute to one of football's most iconic stadiums and makes for a true collector's item that is bound to take center spot at home or the office.
The model is a true celebration of the passion for the game shared by fans all over the world, paying special homage to Manchester United fans. Developed particularly for fans aged sixteen and up, the high attention to detail makes this LEGO model of Old Trafford so special. The 1:600 replica model features several authentic details including the United Trinity statue and the Munich memorial clock.
The model will bring Old Trafford to the homes of Manchester United's enormous fan base of 659M fans worldwide and to those that have not yet been able to experience the stadium in person.
Manchester United's Director of Partnerships, Sean Jefferson comments:
"Our Old Trafford stadium is as iconic as Manchester United itself and we are proud to be able to bring it to life in LEGO form. I think everyone has played with LEGO bricks at some point in their life, however it's still amazing to see the level of detail the LEGO designers have managed to recreate in this piece. We are sure it will be hugely popular amongst Manchester United and LEGO fans alike."
Building this set is sure to be a nostalgic experience for Manchester United fans while also providing a rewarding building experience for LEGO fans. The building instructions includes information on the stadium and its rich heritage and history as well as the designers that have brought the set to life.
"To create Old Trafford in LEGO bricks was a tremendous design challenge for the team, and we couldn't be happier with the result. The 110-year-old stadium provided us with so many important locations, features and stories to tell as we constructed this model. We are excited for our fans to be able to experience all of that history and attention to detail as they construct and proudly display this iconic stadium." – Michael Psiaki, LEGO Design Master.
Kickoff is on January 16th 2020 when the model will be available directly from LEGO Retail Stores and www.LEGO.com/Old-Trafford exclusively for LEGO VIP members, with general availability beginning February 1st 2020, in time for the stadium's 110th anniversary.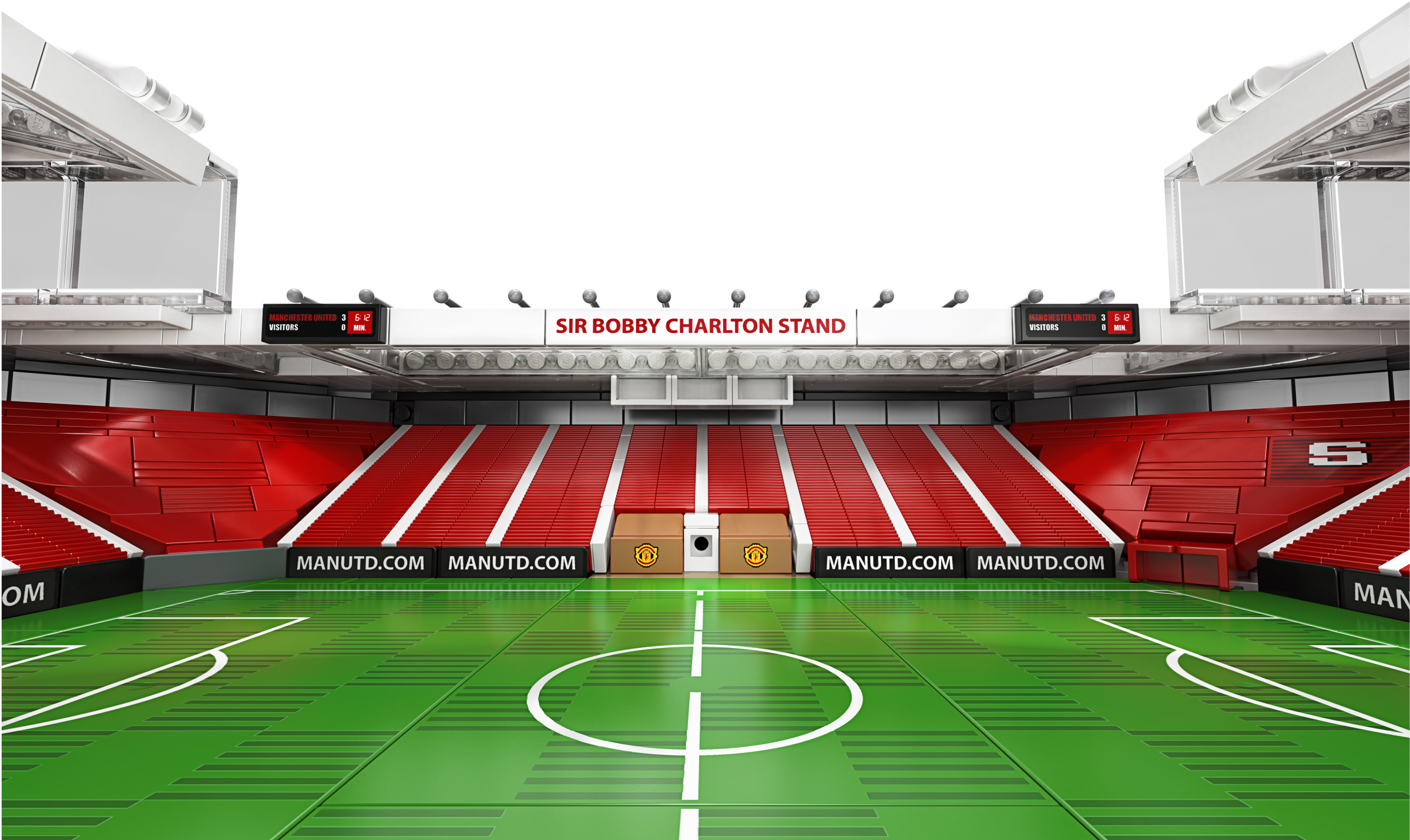 Agora as minhas palavritas.
Muito interessante a forma como estão colocadas as balizas. Mas afinal aquilo não é ilegal? Bem, nada a que não estejamos habituados no mundo do futebol.
Aquelas peças transparentes na pala parecem ter sido mesmo feitas para esta situação em particular. Novamente,  nada a que não estejamos habituados no mundo do futebol.
Pronto, já deu para perceber o que acho deste set.