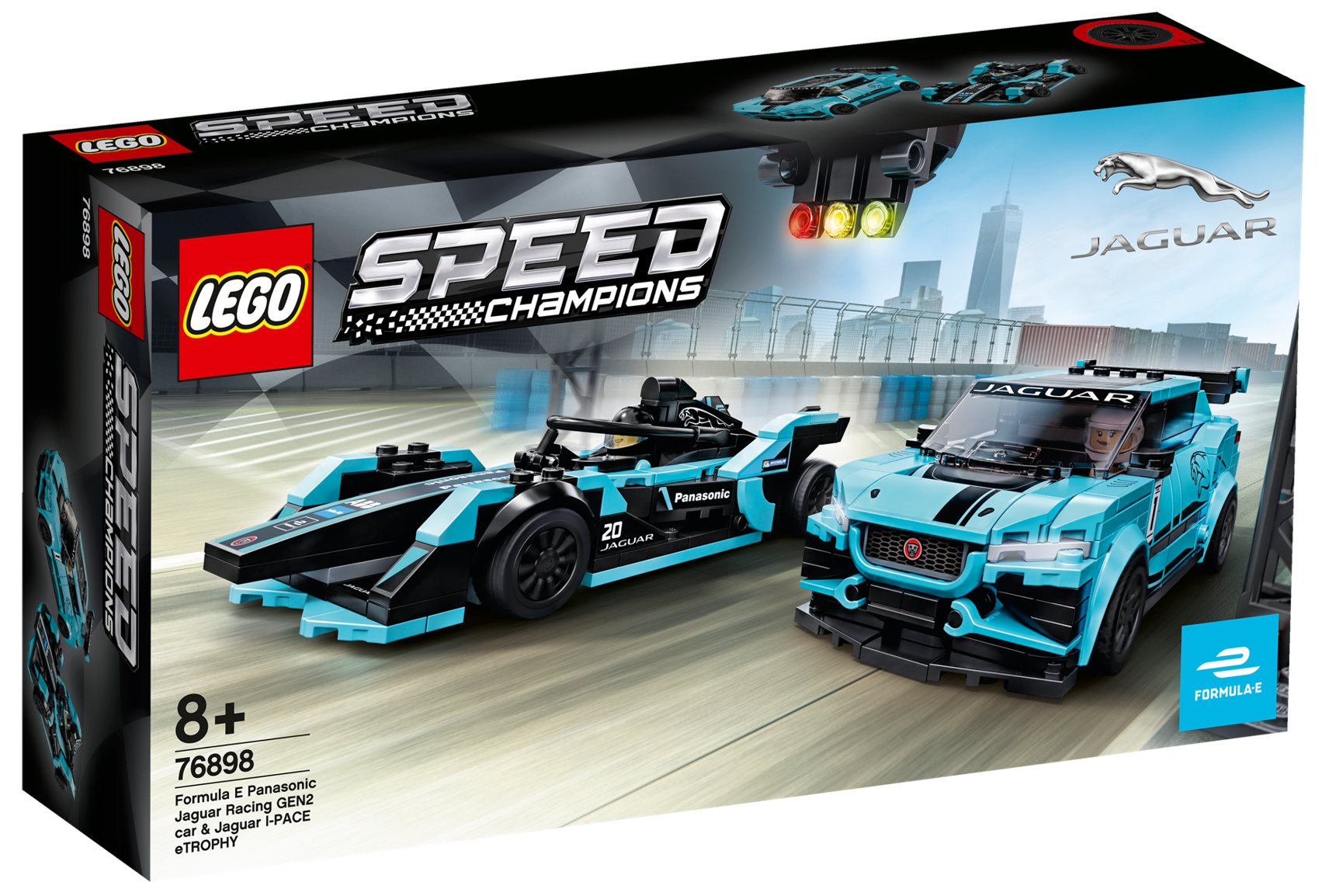 Apesar de ter recebido o press release através da LEGO, a origem é outra: a Panasonic Jaguar Racing.
Basicamente em Janeiro de 2020 vamos ter um conjunto Speed Champions com duas viaturas representando as cores desta equipa. Os veículos representados são o Formula E Panasonic Jaguar Racing GEN2 e o Jaguar I-PACE eTrophy, portanto dois automóveis eléctricos.
Apesar de achar muito interessante a série Speed Champions, principalmente pela sua continuidade, apenas construí dois sets já que o desporto automóvel não me desperta grandes paixões. Numa rápida apreciação o Formula E parece-me algo inacabado mas já o I-PACE tem um aspecto bem potente e realista. Em termos de peças o preto é normalmente uma cor que não me desperta a atenção mas aquele azul parece interessante para algumas construções mais futuristas.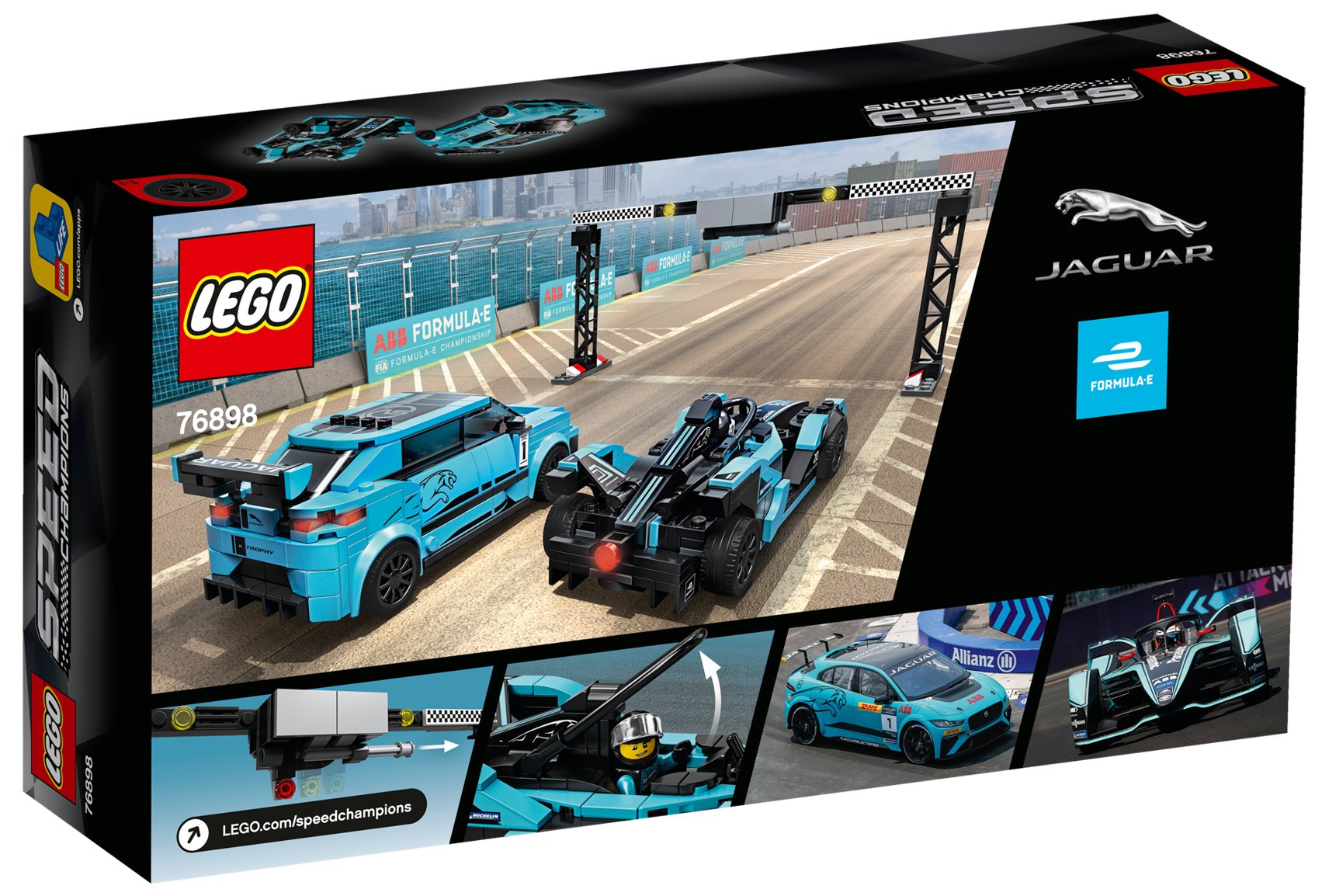 Aqui fica o pressrelease (que também contém informações para outra empresa de brinquedos..):
PANASONIC JAGUAR RACING UNVEILS THE ALL-NEW JAGUAR I-TYPE 4
CASTROL, LEGO & SCALEXTRIC JOIN FORCES WITH PANASONIC JAGUAR RACING
Panasonic Jaguar Racing have today unveiled their new season six all-electric racecar, the Jaguar I-TYPE 4 featuring an all new powertrain

New Zealander Mitch Evans and Briton James Calado will be pushing for points, podiums and wins in the new Jaguar I-TYPE 4

Automotive lubricant specialists Castrol have become the latest leading brand to partner with Panasonic Jaguar Racing

Jaguar Racing partner with leading toy manufacturers the LEGO Group and Scalextric with mini versions of Jaguar's racecars set to go on sale soon
02 October 2019, Gaydon, United Kingdom: 
Panasonic Jaguar Racing have today revealed their brand-new all electric racecar to challenge for season six of the ABB FIA Formula E Championship. The British team's official launch in front of VIPs, media, partners and fans was at Jaguar's brand-new design studio in Gaydon, Warwickshire – the most advanced automotive design centre in the world.
The Jaguar I-TYPE 4, featuring an all new motor, gearbox, invertor, rear suspension and dampers has seen its overall weight reduced offering improved handling and performance.
The lightest and most efficient powertrain the team has ever produced, the Jaguar I-TYPE 4 has a lower centre of gravity and will allow the team to push towards even more points, podiums and wins in season six.
The new powertrain also features a new vehicle control module - which increases the processing capacity and allows faster rate of software development – this puts Jaguar at the forefront of battery electric vehicle innovation.
James Barclay, Panasonic Jaguar Racing Team Director:
"The start of a new season is an exciting time for the team. After months of hard work we are excited to show the world the new Jaguar I-TYPE 4. We have applied all of our experience in Formula E to date and our latest innovations into the new racecar and the development team have created what we believe will be our most competitive Formula E car to date. We've learnt how to win as a team and we are hungry for more in season six. We can't wait to get racing!"
Panasonic Jaguar Racing is delighted to welcome a new partner in Castrol, one of the world's leading lubricants brands. The team is using Castrol's advanced e-fluids onboard the Jaguar I-TYPE 4, building on a long and successful motorsport partnership. Over the years Jaguar Racing and Castrol have enjoyed extraordinary motorsport success, including victory at the prestigious Le Mans 24 Hours and the 24 Hours of Daytona. Using Castrol's e-fluids, will allow Jaguar and Castrol to collaborate, learn and win on the track and further develop advanced technology and e-fluids for the award-winning Jaguar I-PACE and future roadgoing Jaguar vehicles.
Mandhir Singh, Chief Executive Officer, Castrol
"We're excited to extend our long-term partnership with Jaguar to the Panasonic Jaguar Racing Formula E Team. Putting our e-fluids to the test in the tough Formula E race environment is the ideal way to develop the e-fluids and electric vehicle technology of the future. This will help us deliver what drivers want, to go further on a single charge and enable the longer life of transmission and component parts". 
The Castrol logo will feature on the driver helmets and suits, team kit, and merchandise.
James Barclay, Panasonic Jaguar Racing Team Director:
"To improve our performance on the track, we need the best partners, and we are delighted to welcome Castrol for season six. Their innovative automotive lubricants are already benefiting the team and we can't wait to start the season together in Saudi Arabia for the Diriyah E-Prix in November."
Two other huge, but equally tiny additions to the team in season six. Panasonic Jaguar Racing have partnered with leading toy manufacturers the LEGO Group and Scalextric to create mini versions of the electric cars. The LEGO® Speed Champions set featuring the Formula E Panasonic Jaguar Racing GEN2 car and Jaguar I-PACE eTROPHY will be available to buy from 1 January 2020.  The Jaguar I-TYPE Scalextric will be on sale from Spring 2020.